Six Out of Five Employees Say TeamSnap Is the Best Place They've Worked
Current Job Openings
We've taken all the best parts of working at fast-growing company, mashed that up with the advantages of working with distributed teams, added a dash of fresh air and gotten rid of all the old, tired parts of work that nobody has any use for. Because your job shouldn't feel like a job.
Not finding the right role? Please submit your resume to one of the General Interest postings that best fits your experience. This is the best way for us to review all resumes. Share with us in your cover letter why we must hire you.
Working at TeamSnap
We're a mid-size company (currently about 145 full and part-timers) that's growing steadily. Some people work in our headquarters in Boulder, Colorado; while many others work remotely from all corners of the USA and Puerto Rico as well as a few in the UK, Australia and Croatia. In the U.S., we've got people in Portland, Raleigh/Durham, Houston, Washington DC, Los Angeles and Frankenmuth, just to name drop some cities.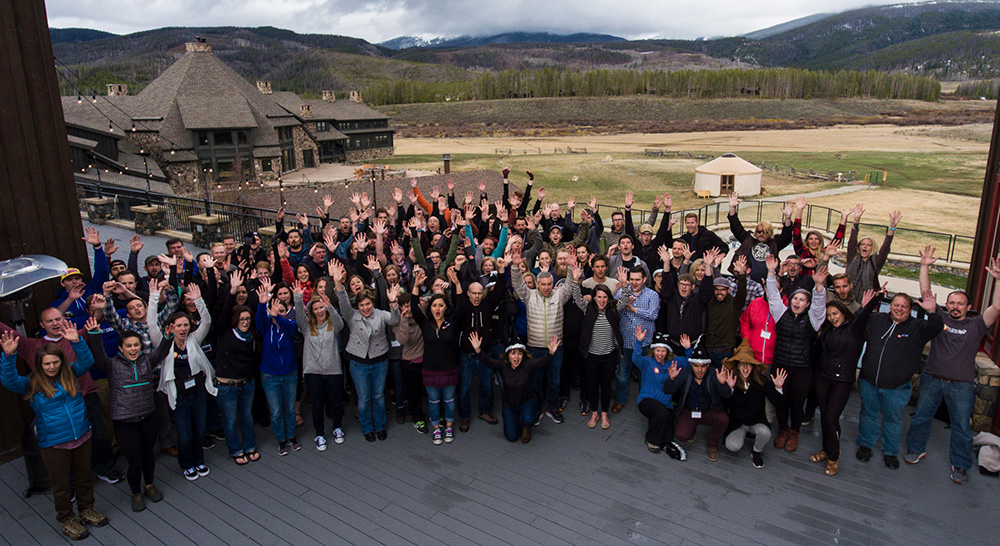 We collaborate remotely by Slack, Skype, Zoom, GitHub and email. We also fly people to the same location to work together. Mostly, we've gotten really good at communicating among a distributed team and giving people the flexibility to work the way they work best.
Work when and how you want to, whether that's in your house or in a coffee shop or in a coworking space or on the beach. Work should fit into your life, not the other way around. You want to go to a movie at 11 a.m.? We strongly support that. You want to fool around on Facebook? Knock yourself out. We're not your mom (...right?).
What's your end of the bargain? Do great work. Work really hard. We expect you to be self-directed and able to juggle multiple balls. There will be nights and weekends. Our customers don't play from 9 to 5, so we don't either. Help us win the hearts of customers and win company awards for the exceptional output of your work, not by hours counted at a desk. With great power comes great responsibility, said both Spiderman and Voltaire. Wildly exceed our expectations.
Learn more about TeamSnap culture on the Wide Teams Podcast.
Speaking of our Customers
We don't just pay lip service to customer service — it's our bread and butter. Everytime a customer contacts us, a real person responds thoughtfully. Talking to customers is in our DNA, and it should be in yours, too. Whether you're an engineer, a project manager or the CEO, you'll spend time on first-line customer support, answering questions about how to reset passwords or get the schedule onto Google Calendar (hint: it's the Share/Export button on the Schedule tab). Everyone in the company is empowered to talk to customers and to do whatever it takes to solve their problem. You don't have to consult with a manager if you think the right thing to do is give someone a free month of service for being awesome.
Our Mission
This is our CEO running with the bulls in Spain. Does your CEO run with the bulls? We didn't think so.
We work every day to simplify the lives of players, coaches, parents and coordinators by taking the headache out of participating in and organizing team and group activities. TeamSnap gives families more time together and helps people get fit. It's nice to go to work every day knowing that you're helping to make the world a better place.
The Intangible Stuff
We look for people with big ideas and tiny egos. There are no sacred cows at TeamSnap. No matter what your "job" is, you're welcome to suggest better ways of doing anything. Sales can suggest ways to improve the iPhone app, and server administrators can propose marketing campaigns. We're all in this thing together and we believe that everyone has a stake in the whole company.
On the flip side, "That's not my job" isn't in our vocabulary. Make it your job.
We're big on respect. That means treating each other right, saying "yes" to each other's ideas and doing what you say you're going to do. We try not to waste each other's time — that means being on time to meetings and also not having a lot of pointless meetings in the first place.
The Company
We're investor funded from firms such as Foundry Group and Northgate Capital, have a revenue model that is proven to work, and are actively increasing monetization. We're building something our customers enthusiastically pay for.
Our Executive Team and Board of Directors know a thing or two about growing a company. Business school and real-world experience teach you a thing or two, and we like to think we're in position to avoid making naïve mistakes.
This isn't a grow-it-and-flip-it endeavor. We're building a business for the long haul, and our goal is to be the world's best solution for managing your team or group activity. We're not going to burn hot and flame out.
Benefits
Medical Insurance, Basic life insurance, AD&D coverage and Long-term disability coverage available
Stock options granted to all full-time employees
401K retirement plan available
100% paid medical benefits (up to a cap)
Flexible work hours and location
Comfortable office environment − leave your suit at home!
HQ is located on Pearl Street in Boulder, Colo., within walking distance of countless happy hours and in the heart of the Boulder Tech Scene
Education and training allowance
Wellness allowance
SWAG company store credit to TeamSnapShop.com
All Company meeting twice a year in Colorado
Is This You?
TeamSnap isn't for everyone. If you want a big company with free food in the cafeteria and complimentary massages in the break room, that's not us (although we do offer our own set of awesome benefits). If you like bureaucracy, red tape and playing office politics, this isn't your scene.
But if you're looking for an opportunity to show off the very best of your skills, in an environment of trust, respect and flexibility, this might very well be the best job you ever have. We look for people who are self-driven, intelligent, collaborative, and serious about their work but don't take themselves too seriously. We're passionate about helping our customers spend less time organizing and more time playing. If you share this passion, let's talk. 
See above for our list of current openings. Don't see your position? Apply to one of our general interest openings and show us why we must hire you!
News Articles of Interest