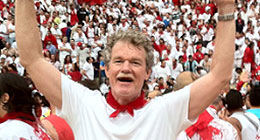 David DuPont
CEO
Dave is the boss around here, doing everything from running the company to sweeping the floors, and everything in between. Since forming the company he has managed three successful investment rounds, secured strategic partnerships and overseen impressive growth. He continues to focus on both day-to-day and long-term initiatives while managing the company.
Dave has more than 20 years of experience in technology leadership positions. He was previously CEO of SANRAD, a venture-funded storage networking company, which he joined in 2006. He also helped found LeftHand Networks, a Boulder-based company sold to Hewlett Packard. Prior to that, Dave was with Hewlett-Packard.
Dave began his professional career as a field engineer in North and West Africa with Schlumberger Ltd. He holds a B.S. in Mechanical Engineering from Cornell University and an MBA from Harvard.
An avid skier and wannabe competitive cyclist, Dave lives in Boulder with wife Deb and two children, Mariel and Gabe. He enjoys reading, cooking and microbreweries.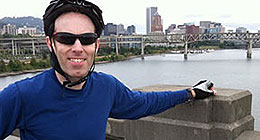 Andrew Berkowitz
Chief Creative Officer
As Chief Creative Officer Andrew works across Product and Marketing to ensure that everything our customers see, hear, read and touch is filled with delight. Well, at least the TeamSnap-related stuff ... he really can't help with what you watch on TV. Andrew leads the design team, ensuring our products are fun to use and good looking too and also works with the marketing team on our communications, branding and public face. As a full-stack leader, he speaks development, design, management, marketing and business strategy. His management style has been described as "Hire smart people and get out of their way."
A graduate of Stanford University, Andrew previously worked as Development Director at Sparkplug, Copy Director at Eye Cue Productions, and as a reporter, columnist and editor with the Anchorage Daily News, Palo Alto Weekly and San Francisco Chronicle. He is a co-founder of TeamSnap and served on its Board of Directors.
Andrew plays many sports and is an avid CrossFit enthusiast. Just ask. Or don't -- he'll tell you anyway. He also teaches, performs and directs improvisational comedy with ComedySportz. He splits his time between Portland, Boulder and many exotic remote working locales around the world. Hobbies include cooking, reading, writing and owning an excessive number of cats.