---
Motion Blurring
---
So all along I have been telling you that one of the cornerstones of sports photography is freezing the action; capturing a moment so you can really appreciate the beauty of the athlete in motion. But like all things creative, rules were meant to be broken. Today, we will discuss how to take a special effects photo that you have seen a hundred times before but you probably don't know how to do them on command. We are going to go over how to take an action photo showing motion blur and that maneuver is called "panning". These are images that show the subject in focus while the background streaks behind them in a blur.
When I first started shooting and heard of panning I thought, "Hey, that's easy, my photos are blurry 50% of the time anyway. Piece of cake!" haha…It actually is a bit more calculated than that. Let's get into the mechanics behind the process first. If you have read my article about Shutter Speed or understand the concept behind freezing the action you already know that the speed of your shutter will either allow the image to blur or freeze. A shutter speed of 1/250 or higher will, in most cases, will freeze the action. For this image we are going to slow your shutter speed and then you will move your camera (pan) with your subject as they cross in front of you on a flat plane. This won't work if the subject is coming straight at you. The action needs to be crossing in front of you so that you can follow the subject as they move. The classic panning image is a racing car. This type of panning image is actually easier to capture than a running athlete because the car doesn't have any moving parts (other than the wheels) so by shooting with a slow shutter speed and moving your camera along with the subject, the background blurs but the subject itself remains fairly sharp. With a running athlete, you still have moving arms and legs however the head remains fairly steady if your pan is accurate. Let's talk about how to get this shot.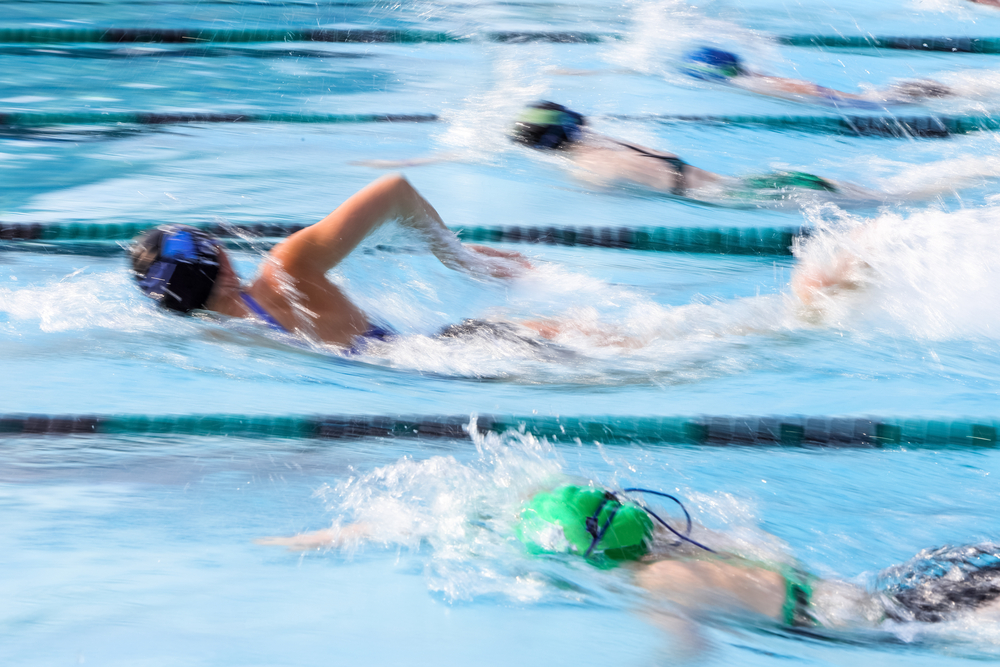 Set your camera to Shutter Priority. This is one of the shooting modes on your camera that allows you to choose the shutter speed while the camera makes automatic corrections for aperture. If you are not sure how to select that mode, look at your camera manual. It should be easy. For Nikon and Sony cameras it is called Mode S. For Canon and Pentax users it is referred to as TV. You are going to choose the shutter speed in this mode. Now considering that 1/250 or above will start to freeze the action, try this experiment down around 1/15 or 1/30 of a second. That is pretty slow in photography terms. Feel free to try it slower or faster. Now set yourself up parallel to the moving subject and as the athlete approaches, pull the trigger and move your camera with the subject trying to keep them centered. You can actually start moving your camera body with your subject before you press the shutter, and continue to follow them after you've pressed it. Patience is the name of the game with this photo. This is a low percentage photo. Not the shot you want to be working on in the last minute of the championship game. This is something to play with after you have plenty of action photos. As I mentioned before, you may take many frames and only get one you like but that one photo will be pretty special.
Of course you can also take this photo by using the Manual Mode. On a sunny day you would want to set your ISO pretty low; Maybe 50 or 100 ISO. Then start with a slow shutter speed around 1/15 of a second and then adjust your aperture according to your camera meter. I have written articles about all of those elements in the Sports Photography Beginners Platform section here on TeamSnap. Check them out.
Got it? Remember, be patient, try different shutter speeds and try different subjects. This is a fun photo to capture and once you do, think of how cool that will look on your son or daughters wall or on your social media page? Get out there and give it a try and have a blast!
---
NEW!

Free Sports Organization Resources

All of TeamSnap's ebooks, articles, and stories in one place. Access Now
---