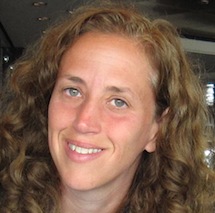 TeamSnap takes mobile development seriously, so we're glad to announce that Annmarie Ziegler has joined us as our first full-time Android developer!
Much like famed rappers Rakim, LL Cool J, and Chuck D, Annmarie is reppin' Strong Island, joining us from the greater New York City area. She'll be working hard to make sure our Android app is getting the love that it needs, striving to make it better, stronger, faster.
Annmarie has been programming for longer than she'd like to admit and still holds fond memories of Java 1.0.  She began developing her skills at the age of 13 when she begged her parents for a computer and, as a result, spent many hours teaching her Commodore 64 how to respond to her commands.  Since then she continued enhancing her skills by coding front-end and back-end applications in Java, C#, Objective-C and also had a brief stint as a dev ops engineer. For the past 1.5 years she has been focusing on mobile app development for iOS and Android devices.  She is a proponent of Agile methodologies and strongly believes in teamwork as a driving factor for success.
Annmarie is an avid reader and collects programming books like others collect stamps or coins.  She was born and raised in Brooklyn NY, but now calls Long Island her home.  When she is not spending time reading or developing, she is shuttling her daughter and son around town for soccer and lacrosse games.  She has no musical or special athletic talent, but did play catcher for a number of years in a woman's softball league.  On occasion you can find her taking a run through the neighborhood, but more than likely it's just a really fast walk.
Welcome, Annmarie!