TeamSnap is proud to welcome Mark Cornick to the team!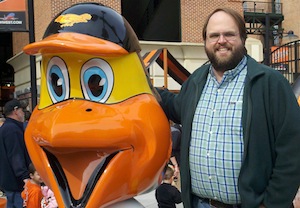 Mark is the "devops" guy at TeamSnap. Like the utility infielder or the combo guard, the devops engineer moves between multiple positions, handling software development and platform engineering, and keeping the team moving deftly.
Mark graduated from James Madison University with a degree in computer science; from there, he moved into UNIX and Linux system administration, honing his skills at NASA's Goddard Space Flight Center, Collective Technologies, the University of Maryland, NOAA and Towson University, among others. He added development to his palette with a stint at Viget Labs. He spoke at RubyNation 2009 on how the differences between system administration and development can affect code quality.
Mark is a big sports fan, but not much of an athlete, as evidenced by his lifetime batting average – it's not only below the Mendoza line, it's not even on Frontage Road F553, much less the Interstate. And despite his height (6'4″), he's never been very good at basketball. However, his height did work to his advantage in volleyball, so once he gets back into shape, he'd like to give that another shot. And although he can't skate, he's driven a Zamboni. So he's got that going for him, which is nice.
Mark lives in Greenbelt, Maryland, just outside Washington, D.C. His family includes his wife, softball battery-mate, and chief booster Jennifer; his stepdaughter Julia, a cyclist, ice skater and budding soccer player; and Archie, the family dog and mascot, and an impressively fast sprinter at the local dog park.