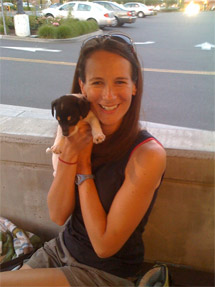 Breaking up is hard to to. But breaking software isn't that hard for Roxann Asp, who has joined us as a full-time Quality Assurance Tester.
Roxann's job is to take our developers' code and mercilessly run it through a gauntlet of tests, coaxing out the hidden bugs, issues and interface annoyances that are hard to find. Once the Roxann Stamp of Approvalâ"¢ goes onto the latest release, we feel pretty confident that our customers will get a smooth user experience.
Like many other TeamSnappers, Roxann started as a part-timer in our Customer Support department. There she learned the ins and outs of TeamSnap, helped customers on a regular basis and developed her relentless ability to ferret out even the most pesky bugs or usability issues.
Roxann graduated from Western Oregon University with a degree in Biology and Secondary Education. She also has a Master's Degree in Education. She spent 15 years teaching high school, and also coached women's basketball and cross country. Holding a practice with 80 runners turned loose on the trails is very similar to herding cats. Trust her.
When she is not obsessively trying to break our apps, Roxann enjoys yoga, walking, performing improvisational theater, starting (and sometimes even finishing) projects in her house, or playing in the dirt in her yard. She loves spending time with her family in Central Oregon and with her other family at the lake in Coeur d' Alene, Idaho — where she works on perfecting her amazing diving skills.
We're thrilled to have Roxann on board to help keep our software purring happily.