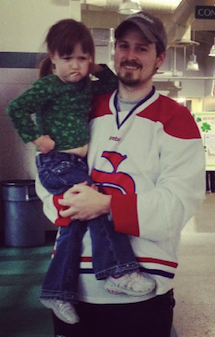 We're thrilled to welcome Ryan Grablick to TeamSnap! Yes, his name is "Grablick".  Yes, he's heard that one before. But thanks for sharing.
Ryan will be joining our development team as a Support Engineer – he'll be the first point of contact between our support and development teams, astride both groups like the Colossus of Rhodes, a force of nature who will make sure that bugs are properly squashed and that our customer support remains top-notch.
Hailing from a small town in Michigan, Ryan's homeland is best known for its extremely large, year-round Christmas store. Luckily, the town consists of more than just elves and reindeer. Ryan's wife and two daughters also live there! (they are not elves) As does their loyal dog, Homer (he is not a reindeer).
Ryan's favorite sport to watch and play is hockey (Wings fan, don't mention last night's Game 7 OT loss), though he hasn't had much luck convincing his two young daughters (yet). If only hockey players dressed like princesses, they might gain traction from the valuable kindergarten girl demographic.
Cooking is another passion of Ryan's, especially BBQ.  For the past two years, Ryan has taken home the grand prize at the annual Fleisch Rauchen Festival (Meat Smoking Festival).  Even though the top prize is a piggy bank with no money, it still gets displayed proudly.
Welcome, Ryan!