Participating in organized sports is beneficial no matter who you are – it helps you stay in shape, it teaches teamwork skills, it motivates you to set and achieve goals. But for those with physical disabilities, participating in sports can do even more, like decrease stress, increase independence, improve self confidence and so much more.
TeamSnap recently added a few more categories to its sports team management software, including wheelchair basketball, hockey, lacrosse, softball and volleyball, as well as a general "adaptive sports" category.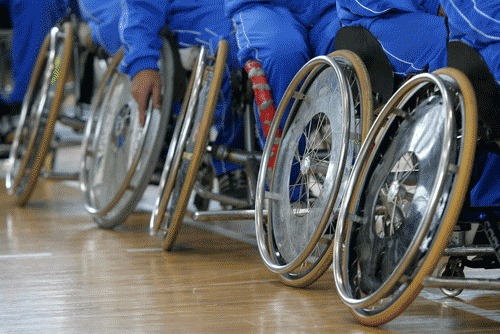 Although we know this is just a small sampling of the great number of adaptive sports out there, we also recently partnered with SportsAbilities to help get the word out and find new ways we can support the adaptive sports community.
SportsAbilities was founded by John Vcelka in Colorado, after he started a handcycling groups to keep him involved in regular group rides. As the group grew and he began experiencing new adaptive sports and activities, he expanded the calendar of events and eventually even added other states to the network. Now, through social media, newsletters and the website, SportsAbilities promotes more than 4,000 events a month from more than 600 organizations across the country. Vcelka is reaching more than 150,000 people per month.
The number of people in the United States with physical disabilities is in the 35 to 50 million range, and Vcelka estimates that about 10 percent of those folks are active athletes, either professionally or recreationally. The leading adaptive sport is wheelchair basketball, followed by sled hockey, quad rugby and wheelchair softball. Other popular sports include handcycling, wheelchair tennis, floor volleyball, soccer and lacrosse.
Although fear – of getting hurt, of not succeeding, of not being accepted – presents a big challenge for athletes with disabilities, Vcelka said he's happy to be able to motivate people to get out there through SportsAbilities.
"We had one individual who was continually looking at our calendars and seeing all of the events that we promote. He was sitting at home doing nothing much. It then occurred to him that with all these events going on, that means there are people who are participating in them. Why is he not?" Vcelka said. "He now travels around the country participating in cycling events and helps promote cycling events to other people."
Of course, there are other challenges to getting involved. Adaptive sports can be prohibitively expensive. Vcelka says that a sport wheelchair, which is necessary for many activities, can run between $2,500 and $6,000. A handcycle ranges from $3,000 to $15,000. However, there are programs that offer grants to help offset expenses, and SportsAbiltiies also features a classifieds section to help athletes buy and sell their equipment.
If there's one thing Vcelka says he'd like people to remember about the adaptive sports community, it's that its members are athletes.
"Just because we do things a little bit differently and our game has some modifications doesn't mean we are not playing as hard as possible," he said.
Stephanie Myers is the Content Manager for TeamSnap, managing such content as this blog, the TeamSnap newsletter and much more. When she's not being the boss of content, you can find Stephanie playing rec-league softball or competitive skee-ball in Austin, Texas.