As a football team admin or coach have you ever thought about drawing up a game plan for managing your upcoming camp or clinic using a sports management solution like TeamSnap?
From setting up camp and clinic registration to building your team roster and communicating with players and parents, TeamSnap offers an all-in-one solution for you to manage your upcoming football programs.
In this post, we share a 4-Step Game Plan for successfully managing your upcoming camps, clinics or tournaments using TeamSnap for Clubs & Leagues.
Let's Break This Game Plan Down John Madden Style
Hear from Coach Isaiah in this video as he breaks down the 4-step game plan just as the late and great John Madden would have.
Step 1: Set Up Online Registration For Your Camp Or Clinic
Start by setting up your camp or clinic through TeamSnap registration. Our self-service form builder let's you set up and launch online registration to help automate the collection of member contact information and payments with our top time-saving feature.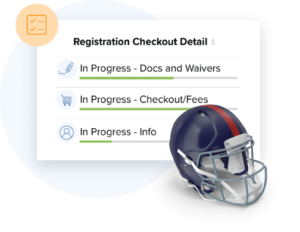 Step 2. Build Your Roster
From there, automatically place players directly from registration or manually drag and drop players to teams or divisions based on registration details. Our roster feature then makes it easy to view contact info, team assignments and attendance status for every player, coach and manager.
Step 3. Schedule Camp and Clinics
Once your roster is finalized, use our scheduling tool to post camp, and clinic schedules. Simply enter your times, dates and locations and in seconds you'll have complete schedules for every team.
Step 4. Communicate With Your Team and Parents
Lastly, communicate with specific players or groups about upcoming events or notify parents and players about practice delays or game cancellations with our team communications tools.
"Our coaches and administrators used to have trouble with the time it took to send a message or schedule a game through their apps. TeamSnap's made communication and scheduling a whole lot easier." – Lexington Christian Academy
An All-In-One Solution To Manage Your Upcoming Football Programs
The best part? All of these tools are seamlessly connected to our award-winning app that's trusted by over 24 million users and 3 million teams. With TeamSnap for Clubs & Leagues, you'll provide something that coaches, players and parents will all love using. Learn more about the features and plans tailored to fit the needs of your upcoming football programs and get started by requesting a demo today.
Do you or someone you know need help managing their sports team or club? Sign up for a free 21-day trial today. Or check out our club and league solution, TeamSnap for Clubs and Leagues if your team is part of a larger sports organization.