Sports organizations rely on a website to share their mission, philosophy, schedule, registration process, and more. As a sports club, it's one thing to have all the pieces together on the backend, but another to display a helpful product that the world can see. Having a sharp website is key to retaining players as well as attracting new players. With TeamSnap for Clubs & Leagues, the website builder feature allows you to get the website of your dreams without the hassle of mastering WordPress coding or InDesign. Our designers and developers can do the work for you, or you can do it yourself with our easy-to-use tools, it's completely up to you.
Website builder is a product that can grow your business tomorrow and provide an intuitive experience that players, parents, and coaches will love. Here are 5 reasons why you will love website builder.
Don't miss out on the TeamSnap on-demand webinar, 5 Ways to Shine Online With TeamSnap Website Builder.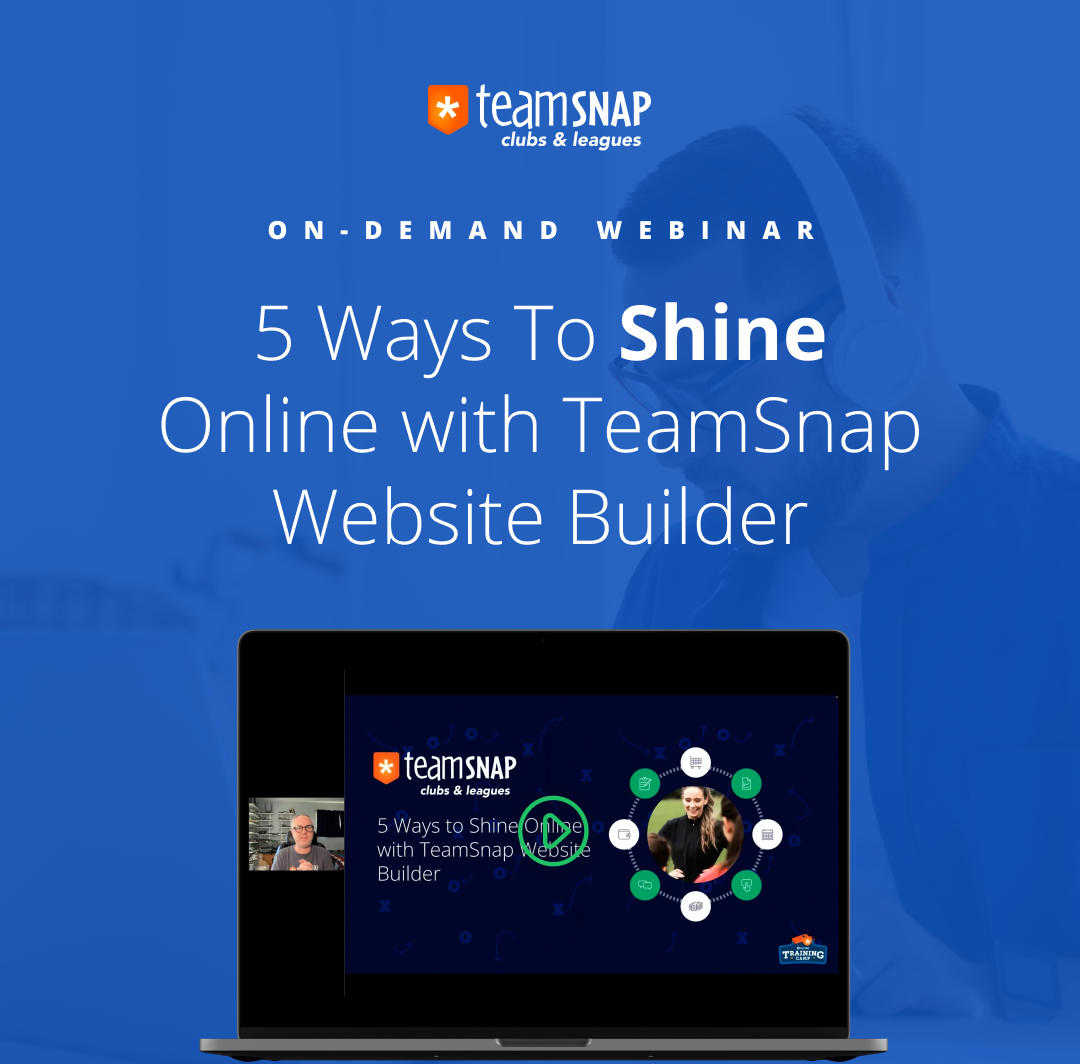 5 Reasons Why You'll Love TeamSnap's Website Builder
Our flexible,

mobile-friendly design templates

are SEO-optimized and look great on any device. Fully customize these design templates with colors and photos to match your brand. If you want a more personalized design, work with our design team who has experience creating thousands of designs for sports organizations.

One of the most advanced yet easy-to-use website systems you'll find in youth sports.

Built on WordPress

(the world's most popular website builder powering 40% of websites), and includes

simple drag and drop

.

Integrated with the latest multi-program management system

to seamlessly run and collect sign-ups for your programs. Drive signups by adding direct links to your registration forms. And, built in capabilities to share remaining inventory as well as open and close dates.

Great looking content templates

to get you started out of the box. Use any of our 125+ page templates to quickly create great looking web pages. 

Save money

by bundling with your TeamSnap for Clubs & Leagues subscription. In no time, you'll be able to create your own pages and add your own content. However, if you are time strapped, our team can build out pages for you!
Some additional features you will love include:
Social Media –

Place direct links to your social media accounts so fans can keep up with news from your organization! Social media can help your website grow even more. 

Custom Domains

–

Set up a custom domain that's memorable. This is the part that gets out in the world, your name, your nickname, or something that sounds great to you!

 A Visible-to-all Schedule

– Add your organization's master schedule, division/level schedule, or team schedule to any page. These updates are automatically added to your website schedules. 

Team Lists

– Publish a list of teams in a division with their standings or links to their schedules. You have control over which data is displayed in the table. If you don't wan to add any of this, no problem either!

Field Locations

– Add maps to your locations, and include any additional information, to make sure everyone knows how to visit your fields. This is especially important for new players trying out. 
"TeamSnap has worked out fabulously for us this year. We also added the website and it's really helped tie the whole program together and is the perfect central point for all things in our program. You guys have awesome customer service and always get right back to me with any questions I have. I am VERY happy with the product and your service," Falmouth Football.
Ready for a Demo?
Are you ready to get started with TeamSnap for Clubs & Leagues and WebsiteBuilder? You're in the right spot! Luckily, we help league and club administrators save time and grow their programs with a platform that is seamlessly connected to our top-rated app. Get a DEMO today!
Liked this Website Content?
If you liked this content on our website builder, it's time to considering checking out some of our other helpful resources.