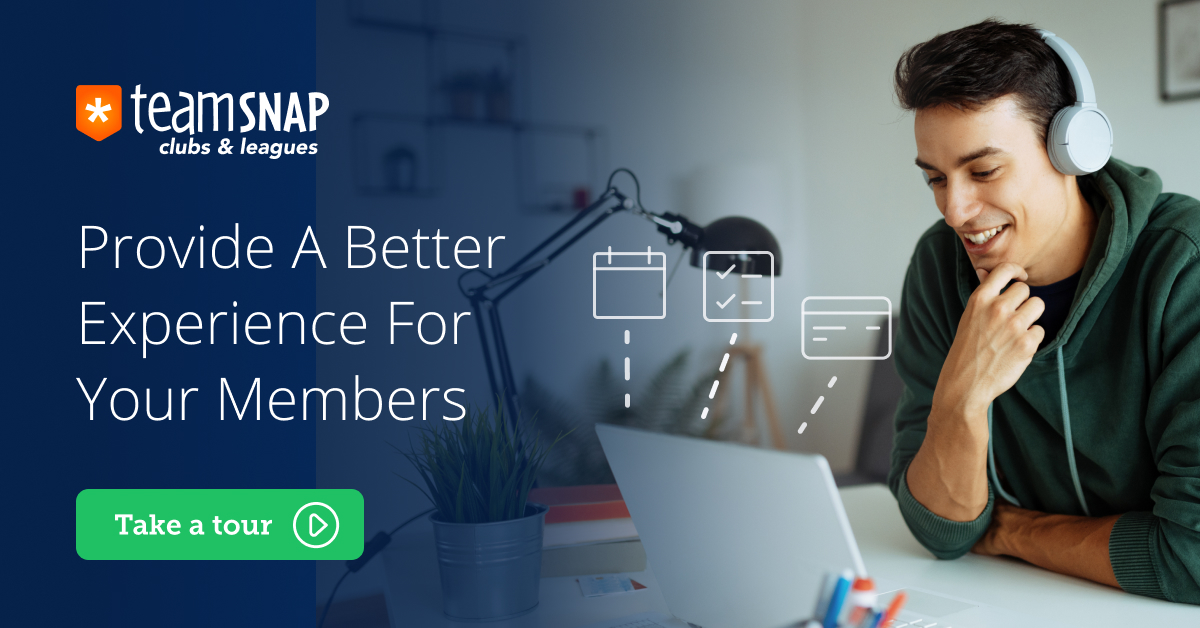 Running a sports organization isn't easy. Whether you're managing a local youth baseball league or the director of a multi-state travel hockey club, there's a lot to think about. These organizers have a lot on their respective plates: registrations, tryouts, member management, finding cash donations or sponsorships, scheduling, and everything in between. 
And in today's fast-paced world, it's never been more important to keep every member of your organization in the know: parents, athletes, coaches, referees, volunteers, and more. 
We recently launched the "TeamSnap for Clubs & Leagues Video Tour to highlight the many benefits that our one-stop solution offers. TeamSnap for Clubs & League remains a tool that your administrators, coaches, managers, and parents will love to use.
Crash Course on Sports Organization Management
#1 How To Deliver the Best Experience for your Club, Coaches, and Members
Technology allows all of us sports organizers the ability to create great experiences for the coaches, members, families, and fans of those who are connected to our clubs and organizations. But, it's important to understand which technologies are best suited for different members of your organization.
TeamSnap built our systems with every member of a sports organization's audience in mind. This could be providing a top-rated mobile app to families, using team chat and task-tracking functions for coaches, and a top-rated platform to scale multiple programs for club admins. 
#2 Launch Registration in 7 Days (or Less)
TeamSnap serves up some best practices for registration building and offers a demo of how to launch online registration with ease using our self-serve form builder.
Registration can be one of the biggest challenges for sports organizers. Eliminate those headaches with our 7-day registration checklist.
#3 Member Management: How To Create Teams Roster Players and Onboard Your Coaches
Walk through a guided video on setting up your program using TeamSnap for Clubs & Leagues. This is a simple, fast, and streamlined way to offer your members the best experience throughout a long season. Everything from creating teams, rostering players, and onboarding coaches.
Learn how to pull off a successful registration process and immediately transition smoothly into the logistical set-up of your club or league. Set your season up for success!
#4 Running Successful Tryouts with TeamSnap for Clubs & Leagues
From communicating tryout dates, creating online registrations, hosting evaluations, and managing the acceptance process and payments, there's a lot going on during tryout season.
Luckily, our on-demand webinar (and a fun stop on the video tour) walks you through the perfect pre-tryout checklist. Gear up every team in your league for a busy start to the season.
#5 Ways to Bring In Real Cash through Sponsorships & Donations
Running a successful sports organization is no easy task. It's also not a cheap one. We understand the need for organizations to raise meaningful funds to continue providing top experiences for every coach, athlete, and parent involved. Raising those funds = attracting more athletes, and growing programs with both sponsorships and donations. 
#6 The Step-By-Step Playbook to Set Up and Launch Your Camp
Sports organizations typically run camps during the off-season, during holiday breaks, and throughout the season to mix up regular programming. What if we told you that you only need to know and learn five plays to easily launch and manage a camp? With TeamSnap for Clubs & Leagues, it's that simple. Deliver the best-in-class camp experience for your members, what do you say?
#7 Five Ways to Shine Online with TeamSnap Website Builder
The last stop on the tour is a fun one. It's time to show off your successful program and make that website shine. The TeamSnap Website Builder gives you a website you'll be proud of and the tools you need to promote and collect registrations, connect with your community, and share schedules & results with fans.
Take the TeamSnap for Clubs & Leagues Video Tour Now
Now that we've gone over a brief overview of the itinerary, are you ready to take the tour? Don't worry, this is an easy process! Just head on over to the video tour page and hit Start Tour.