TeamSnap is thrilled to welcome Jason Rahaim (pronounced "Ram" – we had to ask, too) to the company as our first full-time mobile applications developer!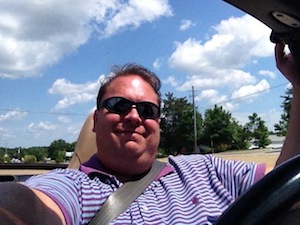 Jason has been programming (and trying to earn an honest buck from it) since middle school. He has always kept his skills current and his eyes on the tech horizon. Years before the introduction of the iPod, Jason built a mobile MP3 player for his Miata. Since attending UMass Amherst, Jason has spent 25 years developing software, including almost three years of experience developing for the iPhone and iPad. Among the dozens of iPhone/iPad applications he has developed are an app to teach trigonometry to school kids and one to predict the spread of wildfires in Australia. Before starting a family, Jason kept himself busy perfecting his juggling, performing improv at ComedySportz, and tossing the occasional disc and dart.
Now he devotes his time to playfully teasing his wonderfully supportive wife, Cheryl, and building trebuchet pitching machines with his 8-year old son, Aiden. He also enjoys Disc Golf, Poker, and Bad Sci-Fi.