At TeamSnap, we don't only help your team compete, our players are competitive themselves. So when we were invited to participate in the Under Armour Future Show 2014 Innovation Challenge, a show hundreds of companies apply to compete in, we were excited to demonstrate what we could do. We were one of only six companies invited to present to the Under Armour executive team.
Although we didn't win it all, we were excited to be named Best in Show by Under Armour employees.
The Future Show 2014 Innovation Challenge, held at Under Armour's headquarters in Baltimore, took place the week of Oct. 6 with a goal of promoting connectivity between wearable sports technologies and Under Armour's MapMyFitness software platform. Three members of TeamSnap's senior management team attended to not only demonstrate what we're currently up to but to also give a glimpse into the future of TeamSnap and what we're capable of.
The show had two components, a two-stage panel judging and an open expo to Under Armour employees. The theme of TeamSnap's panel judging was "Unlocking Potential," which showed that by partnering with MapMyFitness and Under Armour, TeamSnap can create coaching tools that compare and contrast individual performance and other measures against other players on the team, in the club or league, in the sport or at a specific position. These metrics give valuable insight into individual and team performance and progress, measuring not only physical fitness, but also intangibles like teamwork, leadership, effort and chemistry. We also demonstrated how TeamSnap can identify individual players that are at risk for injury based on plyometric conditioning, hydration and player movement during games.
On the expo floor, our TeamSnappers talked to Under Armour employees not only about the presentation but also about what TeamSnap has accomplished so far and what's on the horizon. TeamSnap took home Best in Show for the Exposition, something we're very proud of and that provides further affirmation in our belief that TeamSnap is moving forward in the right direction, including with initiatives like our new TeamSnap Live!
A special shout out goes to Dave DuPont, TeamSnap's CEO and main presenter at Future Show, Wade Minter, TeamSnap CTO and presentation coach, Ken McDonald, TeamSnap chief growth officer and exhibit floor pitchman, and to Drew Meacham and Whitney Althouse, members of the TeamSnap design team who put together exciting demos and concepts of how we could tie to the MapMyFitness platform, as well as the presentation seen below and the following screenshot that shows how the experience can foster healthy competition among teammates.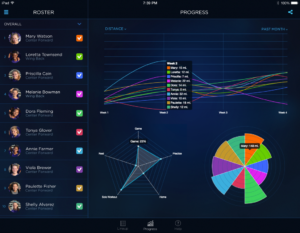 Stephanie Myers is the Content Manager for TeamSnap, managing such content as this blog, the TeamSnap newsletter and much more. When she's not being the boss of content, you can find Stephanie playing in a competitive skee-ball league in Austin, Texas.