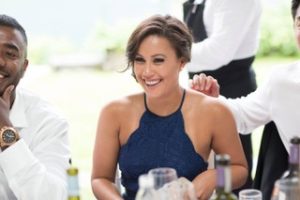 Ask any TeamSnapper what they love about their work and you'll hear a common answer: "The people." And since we spend a massive amount of time connecting with our colleagues, we thought we'd introduce them through our #TeamSnappersTalk series.
~~~
When she's not stoking her passion for TeamSnap, Marika Dasbach can be found on the mats training Brazilian Jiu Jitsu in Boulder, CO. Either that or in the CrossFit gym. "I'm one of those people who can never sit still," she says. "I grew up with two brothers and the three of us played soccer since we could walk. When I began working at TeamSnap, my dad/former soccer coach said, 'Man, this would have been a lifesaver if we had this when you guys were little.'"
Here's a little more about her love for TeamSnap, along with tips for joining the team:
What are you looking for in a superstar teammate?
I look for someone who takes the initiative and jumps right in, and who also isn't afraid to have fun while working hard. Although we are remote, we are constantly working together, so the ability to collaborate yet also bring new ideas to the table is a must!
What is something that makes TeamSnap different from other companies?
Our passion for our product and our people is infectious! So many of us use TeamSnap outside of work, so we know the value of our software on both professional and personal levels. That passion translates into our work and day-to-day interactions with each other, too.
What is the biggest problem you've solved at TeamSnap?
One of our most competitive soccer clubs – Michigan Wolves-Hawks Soccer – has an incredibly complex registration and acceptance process, along with nearly 3,000 players. I created over 100 registration forms to help the club launch their registration on time.
What's your favorite perk at TeamSnap?
Working remotely is the obvious answer, but now after working with the team for a few years, I can easily say the people are my favorite perk. It says a lot about a company when you can look around at your team and see some of your closest friends, despite not seeing each other in person on a day-to-day basis. I've made a lot of amazing friendships at TeamSnap that extend far beyond the workplace.
Do you also love working in sports and thrive in a fast-paced, fun environment? Check out our current openings at https://teamsnap.applytojob.com/apply
~~~
Sheila Repeta is TeamSnap's Director of People Experience. When she's not recruiting and helping TeamSnappers, you can find her running on streets, trails, after her children, or off camping and backpacking.