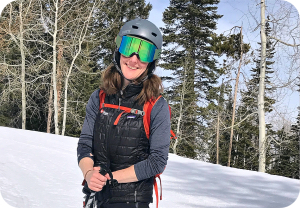 Ask any TeamSnapper what they love about their work and you'll hear a common answer: "The people." And since we spend a massive amount of time connecting with our colleagues, we thought we'd introduce them through our #TeamSnappersTalk series.
There are some people who just get things done–the go-getters who drive their team to tackle challenges in an organized way. You'll often find Amy Teten (our VP of Customer and People Experience) behind these types of efforts at TeamSnap.
What has been your best day at TeamSnap?
We have monthly All Hands meetings where the whole company gets together to discuss business outcomes, initiatives, and objectives–and also to celebrate wins. Our December, 2018 All Hands was particularly inspiring because we took a moment to reflect upon all we'd achieved throughout the year. I just remember how remarkable it was, reviewing the growth we achieved and the culture we maintained throughout a lightning-fast year! And it was awesome to see folks recognize their peers for amazing work.
What do you love about working at TeamSnap?
We have an energetic culture that inspires you to roll up your sleeves, partner with peers to tackle opportunities, and get the job done. We are a fast-paced, innovative, get-it-done company that lives to serve our customers. It's an awesome place to be at this stage in our growth!
What are you looking for in a team member joining the team?
We want people who bring fresh ideas, push the envelope, and who aren't afraid to share their thoughts and opinions. Of course, we also want folks who work well with others, and who put the mission and their team first.
What made you want to join TeamSnap?
We operate at breakneck speed as we move through life, and organized sports are no exception. TeamSnap helps bring order to the chaos.
The ability to truly serve a need and do it well in the process inspires me. The folks along for the ride with me here also lift me up. We have an awesome team of diverse, passionate thought-leaders who are focused on improving the lives of those who use our products.
Want to join a team of fun-loving, passionate thought leaders like Amy? We're hiring! Check out our current openings at: https://teamsnap.applytojob.com/apply
~~~
Sheila Repeta is TeamSnap's Director of People Experience. When she's not recruiting and helping TeamSnappers, you can find her running on streets, trails, after her children, or off camping and backpacking.