Mindy Warden and her family have been involved in the Saline Area Soccer Association in Michigan for years as supporters and cheerleaders, but last year, when Mindy's oldest daughter began her first year of travel on the club's U8 team, Mindy was asked to be team manager. She stepped up to the task and signed up for TeamSnap to help.
The SASA has recreational and travel teams that run from the 3- and 4-year-old Mini Kickers all the way up to high school level. In addition to focusing on skill development and player growth, the club's mission is to also create a lifelong appreciation for the game and foster creativity, commitment, confidence and sportsmanship in all players. Mindy said she's seeing that firsthand with the girls on her teams.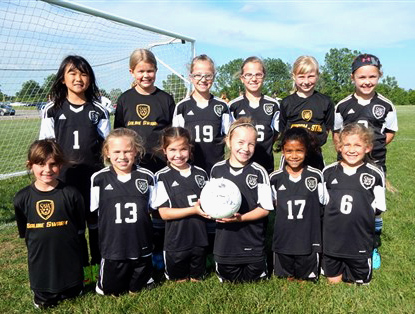 "I love seeing these girls grow individually and become such good friends through their love of soccer," she said. "This game really does bring people together, so the girls getting along so well was the cake and (BONUS) the parents becoming good friends was the icing!"
Of course, managing two teams of eight girls each has its challenges. A parent mentioned TeamSnap to Mindy, and she was hooked, saving time by avoiding excessive emails and texts back and forth with parents.
"It allowed me to go to one place (what I called our source of truth) and make changes; I could then notify the parents with one click and they no longer got multiple emails from me with updates," she said. "I also love the email function in the app. All of my past messages were saved, so I could just cater them to a new audience instead of searching through my Gmail to find my last message. Parents got used to seeing the TeamSnap emails and would know exactly what was going on!"
Mindy says her favorite feature, by far, though is Availability. Before using TeamSnap, figuring out who could play which game was a challenge, sometimes requiring the team to even change game plans.
"Now, when I enter the games, I ask all our parents to provide availability for the season and then I let the coach go in and decide who pass cards and who doesn't," she said. "We uncheck availability for those that don't pass card and the parents can see which games their girls are playing for the entire season. Also, if anything changes, we can make those updates very quickly, again, notifying them of a change!"
Mindy's Black Team finished second in their division and came in a close second in our spring tournament, the Canton Cup. The Gold team placed first in their division with only one loss for the season. Now, this year, it's on to managing the same girls, with a year of experience and a wealth of talent as U9s. TeamSnap's cheering for you!
Stephanie Myers is the Senior Marketing Manager for TeamSnap. When she's not at work manning the marketing department's helm, you can find Stephanie playing lawn games or working on her 95-year-old craftsman home in Memphis, Tenn.