Here at TeamSnap, we don't believe in good customer support. If it's not the best, it's not good enough.
That's why we offer the best support you can get for your club, league or association. If you need expert customer service representatives, fast response times and an excellent help site, look no further than TeamSnap for Clubs & Leagues.
Elite Support Team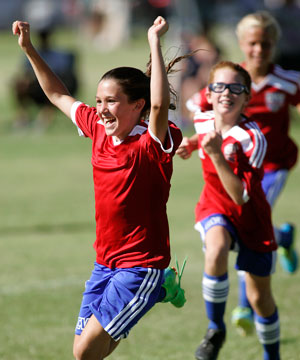 Our support staff is dedicated to getting you help when you need it. In August, we reorganized our personnel so that we have an entire team just for our club and league customers.
That's right–four of our full-time customer service reps offer you 365-day support. They're former or current coaches, administrators, board members and volunteers, just like you. And did we mention they have a customer satisfaction rating of 96 percent? Yeah, when we say elite, we really mean elite.
Warp-Speed Response Times
There's nothing worse than waiting hours for help. Luckily, our club and league reps get back to you faster than you can say "William Shatner."
We offer complimentary live chat software for all club and league customers. It's available in our web app, which you can access from any computer or mobile browser. If you've got a question, problem, complaint or hilarious knock-knock joke, give us a shout and we'll get back to you, pronto.
Robust Help Site
Have you been over to the TeamSnap Help Center recently? If not, you're in for a treat.
The first thing you'll notice is that we upgraded our design. It's made our help center not only gorgeous, but also even easier to navigate. In fact, we've got a section dedicated to help documentation for club and league customers.
Have a feature you'd love to see in the future? You can now post it right in the Community section of our help site. If someone already got to it, make sure to upvote their post. That way we'll know exactly what new features you're most interested in.
Ready to get the best customer support of your life? Learn more from our club and league experts today!
Kyle Massa is the content associate manager at TeamSnap. Outside of work, you can find him writing, reading and playing guitar for his cats.