Question: What's cuter than a puppy? 
Answer: A puppy who's a superhero!
We here at TeamSnap call ourselves a dog-loving bunch. Our HQ offices are dog friendly, and among our 160 employees, we have upwards of 100 dogs. We have an entire Slack channel dedicated to dogs, where team members post pics of their pups daily. To say we love dogs is an understatement.
Which is why when we learned Guide Dogs for the Blind – San Francisco Puppy Raisers is a fan of TeamSnap, we had to interview manager Jennelle Crothers for a story.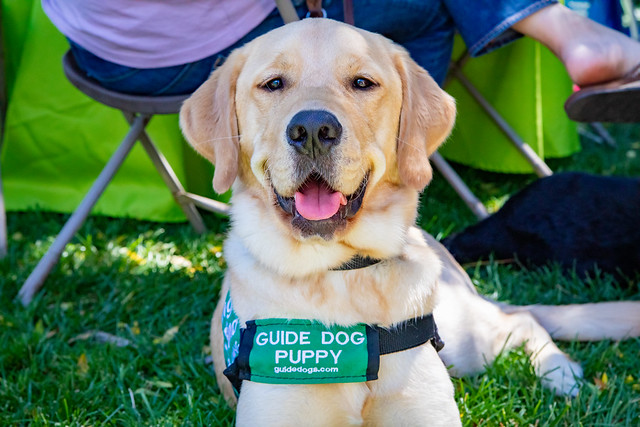 TeamSnap: How long have you been with GDB San Francisco Puppy Raisers?
Jennelle: I've been a member of the Guide Dogs for the Blind San Francisco Puppy Raisers for about 14 years now. I've been a leader in our club for about 10 of those years. Joining was a great way to be able to give back to the community as well as learn about dog training. I've raised 11 puppies of my own so far, as well as help our club members raise over 100 dogs collectively.
TeamSnap: What can you tell us about the organization?
Jennelle: Guide Dogs for the Blind has had a puppy raising group in San Francisco for over 20 years. We are part of a large network of raisers (over 2,000) in the Western United States. Our group has over 40 regular members including adults, families with children and couples of all ages who enjoy helping dogs become the best they can be by either raising a puppy full time or supporting the group with short-term puppy sitting. 
It truly takes a village to support both the dogs and the people. We celebrate everyone's contribution to the process–whether a dog graduates with a blind partner or simply goes on to be the best 'career changed' pet they can be!
TeamSnap: How did GDB San Francisco Puppy Raisers find TeamSnap?
Jennelle: We were looking specifically for a way to manage contact information and calendars. I looked at several different tools and TeamSnap was the best combination of features and cost. While we can't relate to all the sports team features, it's the application that came closest to matching how our group functions. We use it primarily to keep track of contact information and the meeting calendar. We also keep reference documentation. 
TeamSnap: How does TeamSnap make your life easier?
Jennelle: Our main goal was to make it easier for people to find and update contact information. We use email distribution lists for the majority of our group communications, but keeping track of updates of our paper calendar and paper membership list was getting complicated.
TeamSnap: What is your favorite feature about TeamSnap? 
Jennelle: I like that we can make quick changes to our calendar and that our members can be responsible for keeping their own contact information up to date, and it's always available from my phone. Saves our leadership team from having to constantly make sure they've saved the proper phone numbers and emails in their personal contacts.
TeamSnap: Can you tell me a story about a time TeamSnap was really there for you?
Jennelle: We had an issue where we weren't able to access our usual meeting location and had to quickly make a decision to change where we met. We were able to use the chat and alert features to let just about everyone know the new meeting location. 
—
Guide Dogs for the Blind is a nonprofit, charitable organization that was established in 1942 to provide a safe means of mobility for people who are blind and visually impaired. GDB is the largest guide dog school in the country, and continues its dedication to quality student training services and extensive follow-up support for graduates. Services are provided to students from the United States and Canada at no cost to them. With more than 2,000 volunteer puppy raising families throughout the Western states, more than 15,000 teams have graduated since their founding. There are approximately 2,200 active guide dog teams currently in the field. Donate now to help these puppy heroes grow into superhero guide dogs.
TeamSnap is thrilled to be even just a small part of GDB's success, and we thank every puppy, dog, staff member, and family for their service. 
Photos: Guide Dogs for the Blind 
–
Lisa Hope is a product marketing manager with TeamSnap and a marketing professor at the University of Florida.