For any athlete of any age at any level of competition, coaches matter. They teach athletes so much: how to throw a tight spiral, how to kick a goal, how to stop a hard-hit grounder. But there's more to coaching than just the mechanics. The very best coaches teach lessons that transcend sports.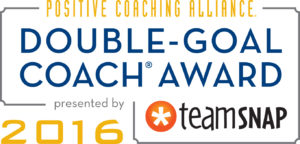 That's why we're proud to congratulate this year's recipients of the Positive Coaching Alliance's Double-Goal Coach® Award. The 50 national recipients of this award are coaches who not only teach kids how to win, but also teach them much more important life lessons.
All 50 national winners of the 15th Double-Goal Coach Award will each receive $200, a certificate, recognition in PCA's website, social media, newsletters and media campaigns, as well as a year's TeamSnap subscription. Also, a few winners receive an all-expenses-paid trip to accept the honor in California during PCA's National Youth Sports Awards Dinner and Auction presented by TeamSnap. Click here to see the full list of winners.
We're also happy to say that more than a quarter of this year's finalists are TeamSnap customers. Keep up the great work!
To all the nominees and winners of this year's award, on behalf of everyone you've inspired and everyone you're going to inspire, thank you!
Kyle Massa is the content associate manager at TeamSnap. Outside of work, you can find him writing, reading or playing guitar for his cats.