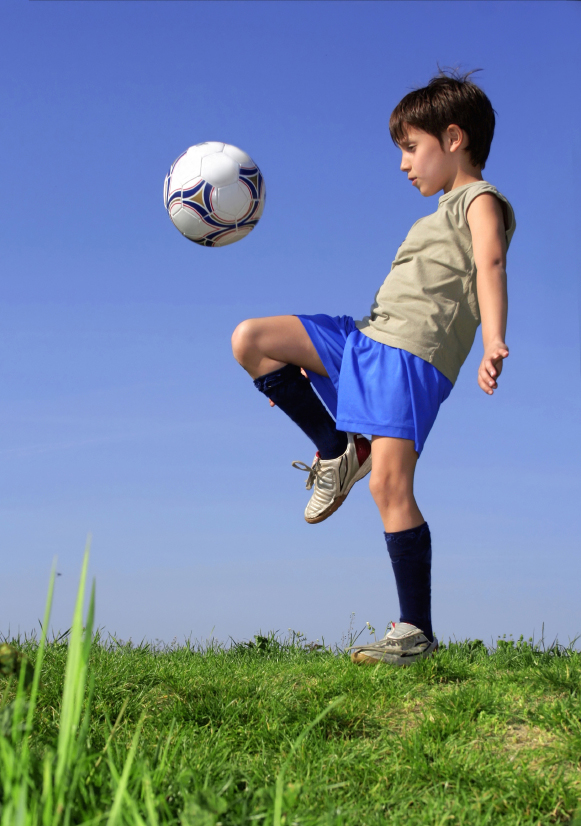 Interacting with our customers on a daily basis, I have the pleasure of talking to coaches, team moms and dads, league administrators, managers, and sports parents. Everyone has their own approach to youth sports, but there is an overarching theme of seeking to create a positive sports experience for kids, promoting growth and personal development. According to sports psychology experts, Patrick and Lisa Cohn, confidence is the number one trait that determines whether kids enjoy and succeed at sports. Based on this knowledge, they have created a wonderful program to help parents, coaches, and their young athletes improve kids' mental game skills for success in sports and life.
The Confident Sports Kid Program includes a CD and workbook for young athletes along with a manual and CD for parents and coaches. The program guides kids and adults through seven daily lessons to help them manage expectations that hurt confidence and provides other key strategies that help boost kids' confidence in sports. The program is simple, easy to follow, and requires just a few minutes each day but it creates an open and honest dialogue between athletes and their parents or coaches that is often unaddressed. As a coach and a player, I understand the benefit of simply having this conversation because it provides a plan for athletes to find and maintain confidence and opens up the lines of communication.
You may be familiar with Patrick and Lisa Cohn because they wrote a series of guest blogs about sports kids confidence on TeamSnap. They also write the Ultimate Sports Parent Blog, host a weekly podcast, and are highly regarded in the world of youth sports. As a general rule, we never accept money for our blog posts and only write about topics and products that we think will be useful for our customers. This certainly holds true for the Confident Sports Kid Program, but in this case we have partnered with Peak Sports and will receive a small percentage of the sales and have passed along a 15% discount to our customers. To receive the 15% discount just enter the coupon code "TEAMSNAP" when you place your order.
We would also like to give you the opportunity to check out the program for yourself so we have provided Day 1 of the athlete's workbook at no cost. The first mission is a quick assessment of an athlete's confidence which will identify areas to focus on. Take a look to understand the structure and types of questions that you will see as well as the conversation this will raise with your athlete.  Confident Sports Kid Program: Day 1
We are always looking for effective ways to ensure a positive experience for sports kids and increasing their confidence is a key part of this mission. The benefits of confidence stretch far beyond the athletic arena and help to prepare kids for real world situations. If you use the program, please send us your feedback and let us know what you think and we would love to hear other suggestions on how your athlete found confidence and a positive sports experience.