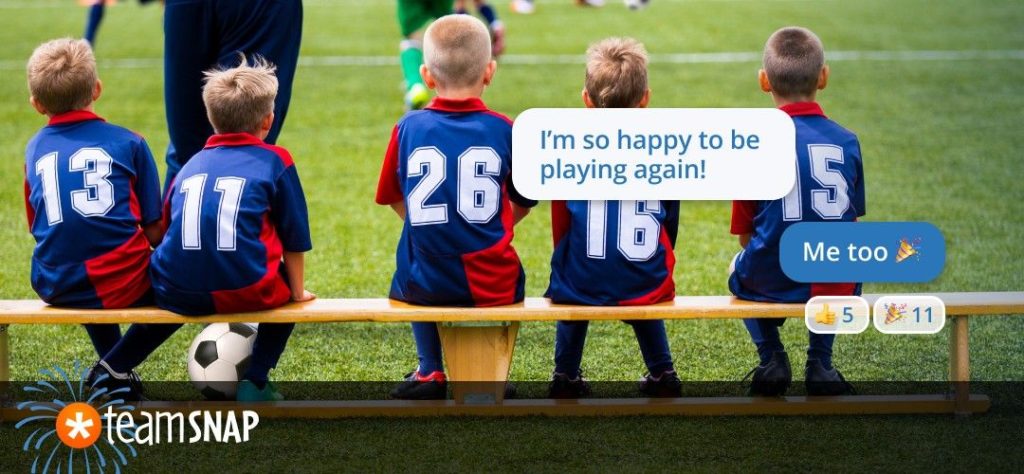 As sports begin to return in places across the United States, many are starting to feel a sense of normalcy begin to creep back into daily life. But like most sports organization communities, this season may look a little different from previous years, balancing health screening processes and tracking with vaccine rollouts and states opening up to full capacity again. As we all return to the new normal, here are some key considerations for coaches to think about while returning to sports this summer. 
Anticipate A Rise In Enrollment
After over a year of various stages of shut downs and sitting on the sidelines from sports, parents and players are eager to return to the fields and their teams. Many TeamSnap customers are reporting increased enrollment in summer sports and programs, especially for recreation and intramural sports. You may have a larger roster this year for your teams than you have in the past, or the opportunity to form multiple teams in your sports organization for a certain age group. Larger teams mean strong communication and organization is essential for a successful season. Start adding players to your Roster tab and communicating with your teams within TeamSnap early and often as the season gets underway.
If your rosters fill up, consider referring prospective players to neighboring sports organizations and help drive enrollment and access to sport in your community.
Address Lingering Uncertainty About The Fall Season In Advance
While summer sports may be getting into full swing, there's still a twinge of uncertainty around what the fall season may bring. Expect questions from parents on what assurances will be made for the upcoming season and questions regarding registrations and refunds. The easiest way to set and manage expectations for the coming season is through consistent communication. Make sure you are up to date with the process and policies your club or league admins have put in place for the fall so you can clearly communicate this to your team's parents so everyone is on the same page.
Set Clear Expectations With Your Players & Parents
With so much change this past year, the potential for larger teams and fewer restrictions than last summer aim to set your communication and attendance expectations with your team from the start. Ensure everyone knows what the primary communication channels are, has downloaded TeamSnap and knows how to complete items like mark availability and view schedule updates.
Be sure to share expectations on commitment levels upfront for the season. Keep in mind you may need more flexibility than previous years for missed practices or games as travel restrictions are lifted and many families will be taking a vacation for the first time in over a year. Ask your team to mark their availability in advance so coaches can plan accordingly for games and practices.
Build Connections On And Off The Field
As a coach, building a strong team doesn't end when the game or practice finishes. After the last year, everyone could probably use a little extra connection, and what better way to celebrate the return to sports than the return to social activities? Get your team together for a preseason or midseason BBQ to celebrate and connect. Add the event to your Schedule tab and you can even get creative with the Assignments tab and have parents volunteer to bring a dish potluck style!
We know that everyone's excited to get back onto the fields to return to the sports they love. With so much change happening on a daily basis, a sports management solution that can handle frequent schedule changes, quick communication needs, health screenings and payments is more important now than ever, so consider switching to TeamSnap for Teams or TeamSnap for Clubs & Leagues if you're managing more than five teams.