At TeamSnap, we pride ourselves on making life easier for our customers and helping you run your organization with confidence. As clubs and leagues, and organizations in general, grow and become more complex, it becomes more likely for manual processes to create complications. Automating and simplifying these processes gives you confidence that things are being done efficiently and effectively.
 Collecting payments is one of those processes that can be easily automated, and today, we are happy to announce that we have officially launched our new integrated payment solution within TeamSnap for Clubs & Leagues.
 Although we have offered payments for a few years now, this new launch means a cleaner and easier experience for you. Now, collecting registration fees and one-off invoices, checking your business' financial health, and managing your transactions can all occur directly within your TeamSnap account.
 So, what's changed and what does it mean for you?
Easy setup, all within TeamSnap
Your organization can start taking payments right away. No crazy long forms or being teleported to a 3rd party vendor. Just set up your registration form or invoice, signal that you want to accept credit cards or ACH and send it out to parents and players — it's as simple as that. When you're ready to collect your funds, it will just take a few minutes to provide your bank account information and start receiving your deposits.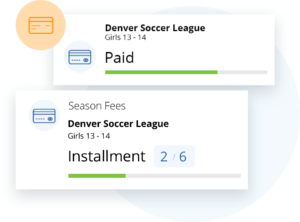 Fastest funding in our industry 
We know that running your business takes money — you have to pay for tournament fees, practice space, gear, and maybe even salaries. That's why we make sure you get your money into your bank account within 2 business days, no matter whether you received payments via card or ACH bank transfer.
Financial reporting with full visibility
You now have access to full reporting within TeamSnap. See details on all of your transactions and deposits, with information on where the payment came from, who it's associated with, and what it was for. Easily see who has paid, who has yet to pay and how much money is being deposited into your bank account.
Make it easy for parents to pay

Parents are always on the go and have a hundred things going on at the same time. It's time we make it easier for them to register and pay for club sports. Registering with TeamSnap is as easy as it gets:
Mobile-friendly forms that can be completed anywhere, anytime. 

Quick payments via Apple Pay, making the end-to-end process as simple as 3 clicks or a fingerprint. 
Are you ready for this complimentary upgrade? Take a look at our integrated payments FAQs and get started by contacting our sales team or your Account Manager.
–
Anand Patel is a Sr. Product Marketing Manager at TeamSnap.