No matter what sport you play or what your age, that after-game glow is something every athlete has experienced. 
It was a summer-league game, with a respectable start time of 8:30 on a work night. We were halfway through our 12-game season and the chemistry of the team was really kicking in. Post-game, we were feeling exalted after our rec hockey team grabbed another win and were chilling in the locker room, rehashing plays and shooting the breeze. I knew I should pack up my gear and head home; after all, it was a work night. But the good tidings in the locker room made it hard to break away. Finally, at around midnight, we made our way out of the arena for home.
Maybe it's just me, but I find that sports are unique in that they provide excellent networking opportunities to form lasting relationships, both personal and business. In the 22 years I am fortunate enough to have been playing, I'm lucky to have made some great friends and business associates. Just ask my attorney, my doctor, my dentist, my accountant….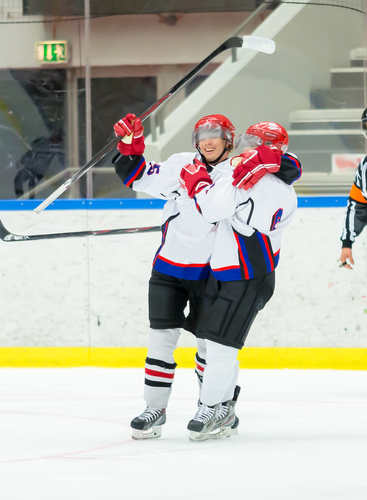 The drive home had me going over plays in my head, smiling at some crazy antic I witnessed or joke I heard on the bench. Although I can get angry and frustrated with myself over a missed pass or something I did to cause us to give up a goal, the good vibes I get from this sport always makes it all worthwhile.
Getting home after midnight, I knew that if I didn't get my butt into bed by 12:30 I'd have a really tough time waking up for work. Normally, it doesn't take longer than 10 minutes after my head hits the pillow for me to fall asleep; but this night was different. What kept me buzzing and wide awake is what I call The Afterglow.
I'm sure I'm not the only rec-league player to experience that warm, fuzzy feeling. You know, the one you get from being a part of a great group of people who get together once or twice a week for a common goal.
It's the complete package: the pregame banter and jokes while suiting up; the giving-it-your-all for an hour and a half; and the wind-down in the locker room as you shed your gear. The post-game bonding in the locker room, while discussing the highs (and lows) of the game over some beers and laughs, never grows old.
Come morning, my alarm clock rang at 6:15 a.m. After one or two swipes at the snooze button, I finally dragged myself out of bed and into the shower. Very tired (and with a little help from caffeine), I somehow make it through the day. I bask in The Afterglow, still thinking of the night before and can't wait for the next game!
Warren Tabachnick plays in two recreational ice hockey leagues, year round. Published by permission of CrossIceHockey.com–Where Rec Hockey Lives. © 2014 Digital Media Publications, Inc. All rights reserved.