Experiencing a concussion is a difficult thing to describe. There are obvious symptoms, but it's the hidden ones that scare me the most. The truth is that experiencing a concussion can be a frightening event for a player, especially when it results in amnesia.
How do you explain what it feels like to watch yourself play on film and yet you have zero memory of it? You watch your body regain consciousness and begin to function again as you sprint to the sidelines. You even watch yourself talk to coaches, trainers, and teammates, yet none of it is relevant to you because you can't remember it.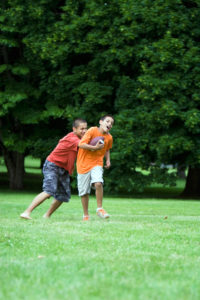 My upcoming book Counting The Days While My Mind Slips Away addresses many things that I have chosen not to discuss up to this point regarding my experience with concussions while playing football. More importantly, it will be a love letter to my family in case the day comes when my mind goes the way of many others before me.
Friends and fans, please understand that I love this game. I never thought as I was catching passes and making tackles with dad in the backyard of a small town in Minnesota that I would one day play in the NFL. And I never believed that my career would be cut short due to multiple traumatic brain injuries. At 34 years old, I have gaps in my memory, priceless moments from my past that have eerily been erased.  No matter how hard I search they stay missing. 
I don't mean to discourage you from enjoying the game I love as much as anyone. I share my experience to encourage us all to realize how important our brains are in our identity, integral to who we are. Without memory, we lose our relevance.
As an advocate for brain health, I am often asked whether or not I would allow my sons to play football. Well, the easy answer is that the good Lord has blessed me with four daughters, so I most likely will never have to answer that question. However, if I did have sons, I could only answer the question as an informed parent and not a medical professional. Every parent should consult a sports neurologist to gain wisdom in answering this question for themselves. 
My response, speaking only as a father, is that I would like to see the entrance age of children going into contact football be increased to 12 years old. We know that children's brains are still maturing in very critical and foundational ways between the ages of 2 and 12. These children should have athletic options that reduce the risk of head trauma. We should be supporting the creation of state and national non-contact football leagues (flag football) that teach the fundamentals and techniques of the game at all positions, allowing kids to play and have fun, without the higher risk for concussions.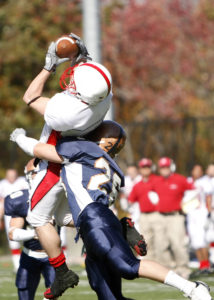 As a father, I'd like to see our K-12 sports leagues requiring annual sports physicals, including a standardized neurological exam designed by top sports neurologists so that extra attention is given to kids who are more susceptible to concussions. Also, let's support new methods and practices in school sports designed to prevent and detect concussions when they occur. Let's help parents get connected to well-balanced medical information and the correct doctors if their children are involved in contact sports. We should not be creating a culture of fear around youth contact sports, but instead one that takes a conservative approach to the safety and well-being of our children.
What I fear most is a future in which I lose my relevance as a husband, father, friend, and man. If my memories fade in the years to come, the most important people and things in my life start to become irrelevant. This is the sole reason why I advocate for the long-term brain health of professional and collegiate athletes. More importantly, I want to do so for children in youth contact sports, because they are unable to make those decisions for themselves. Together, we can make our sports better for the brain.
Ben Utecht is a former NFL player, having spent six years in the league, the highlight of which was winning Super Bowl XLI while playing for the Indianapolis Colts.  Ben's career was cut short due to multiple concussions, so today he is proud to be the national spokesperson for the American Academy of Neurology and the American Brain Foundation.  He is an author and a Dove Award nominated singer, set to release his first book and fifth album in 2016.  He shares his story and songs with thousands of individuals across the country each year.  Ben is a husband to a beautiful wife and a father of four amazing girls.  For more information about Ben, visit his website at www.ben-utecht.com.