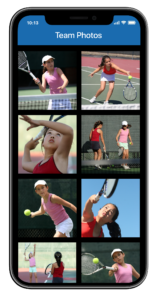 Did you know you can take and upload photos and videos through the TeamSnap app? It's fast and easy, and makes sharing your team's best moments—whether it's clearing the last hurdle in a 110 or serving an incredible ace, well, a snap. Here are 5 tips on how to take winning action shots with your phone, so you can score the best tennis, track, swim, cheer, soccer (the list goes on) photos possible.
Mind Your Position
Getting close to the action will help your shots look more professional, says Nashville-based photographer (and championship Alliance Volleyball Club coach) Amber Holzer, owner of Amber Dawn Photography. You'll be able to capture more details, like facial expressions, which can always make your shots pop.
You'll also want to keep yourself still. While most phone cameras now have built-in image stabilization, reducing your own motion can help ensure a crisp shot. Bonus: You can turn it into an exercise: Bring your elbows to your ribs and squeeze your torso with your upper arms as you take the shot. Your body will help keep your phone still.
Compose Your Shot
"Stick with the rule of thirds," Holzer says. "First, imagine a grid over your photograph, with three vertical lines and three horizontal lines that intersect each other, creating nine boxes. Aim to place points of interest where the lines intersect, to help the photo become more balanced, and to give the eye a place to naturally focus."
Find Your Focus
Most phone cameras can lock the focus, which can help when the action is fast. "As you're watching the game, hold your finger on the person or point of interest your wish to focus on," Holzer says. "It usually locks the focus even on moving targets!"
Change Your Perspective
"We often take images from our own viewpoint, but that can create a one-dimensional shot," Holzer says. Instead, she advises changing up your perspective by crouching low, or by standing on something higher than your subject. "It will make your images much more interesting," she says.
Boost Your Odds
If you've been to a professional photo shoot you'll have likely heard incredibly fast clicking. (Or maybe you've just heard Duran Duran's Girls on Film.) It's something photographers have loved for ages, and it simply means options. You'll be much more likely to capture a great shot—of someone performing an aerial in cheer, for example, and with their eyes open no less—if you take as many photos as possible. To activate Burst mode with most phones, simply hold the shutter button as the action is happening. "This way you can choose the best action shot, instead of hoping for the best," Holzer says.
Lara Rosenbaum is an award-winning journalist and wellness expert whose work has appeared in SELF, Shape, Men's Health, Runner's World, Men's Journal, Prevention, Yoga Journal and countless other publications. She has held editorial positions at several magazines and brands, including Women's Health, where she was the founding fitness editor, and at Fitbit. Lara is also a former elite athlete, having traveled the world as a member of the U.S. Freestyle Ski Team. She is a certified personal trainer and yoga teacher, and in her free time enjoys traveling, playing with her dogs, and adventuring outside.