In many youth baseball leagues, there simply isn't a budget for field maintenance. The league and its players rely on the generosity of coaches and volunteers to help get the field ready and in safe playing condition. It's a true community effort that helps kids come together to play ball, have fun and learn valuable life lessons and skills through sports.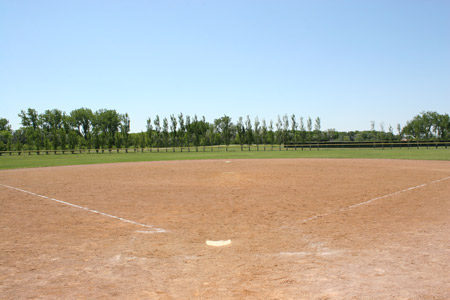 Of course, while youth baseball coaches and volunteers have the best intentions, they aren't always experienced field managers. There's a lot that goes into properly maintaining a baseball field. One of the biggest hazards in youth baseball is often the field itself–a lack of proper field maintenance could put players at risk for a serious injury.
That's why it's so important for all involved in maintaining the baseball field to take the time to learn the basics of athletic field maintenance. This way, everyone can do their part to provide safe, sustainable playing grounds for baseball. Here are some tips to keep in mind:
Always Examine the Field Before Practices and Games
Before players step onto the field, someone needs to examine the field to make sure it is safe for play. If the field is too wet or muddy, for example, players could easily slip, twist an ankle or otherwise hurt themselves. Likewise, if the field has any ruts or holes, those are hazards that would need to be addressed before the field could be deemed playable.
Clean the Field After Use
After every practice and every game, a coach or parent volunteer should walk the field and make sure it is completely cleaned. Any debris from the field, dugouts, sidelines and stands needs to be removed so that it doesn't blow around on the field and cause a mess. A clean field is important for player safety.
Create a Field Maintenance Schedule
Not all field maintenance can be saved for just before or just after the game. There are some key tasks that will need to be performed during off times to ensure the field is kept in pristine condition. Coaches, parents, players and other volunteers need to work together to create a field maintenance schedule, assigning people to complete these essential tasks:
Mowing – It's generally recommended that the grass on a baseball field be kept at a length between one and two and a half inches, depending on the kind of grass. The grass should never be allowed to grow so long that more than 1/3 of the leaf tissue would need to be cut to get it back to the recommended length. Letting the grass grow too long before cutting it can cause damage to the turf. This may require weekly mowing during the season.
Watering – Regularly watering the field can keep the grass healthy. During the spring and summer, it's best to water the field about every three days as early in the morning as possible (around five or six in the morning is ideal) before the sun puts too much strain on the grass.
Aerating – A baseball field should be aerated at least once during the summer. If the field is especially hard, two aerating sessions may be required, about six weeks apart. Aeration is used to create holes in the ground that allow water and air to get deeper into the roots. Always water the grass well so that it's soft enough for the aeration to work effectively. The field should be given a couple of days to dry before doing any more work on it.
Smoothing – A smooth, level playing surface is essential for player safety. Every week, someone (or better, a team of volunteers) should inspect the entire field–infield, outfield, base paths, batter's box, etc.–to make sure it's smooth and even with no sudden dips, cracks or elevations. Base paths need to be dragged and raked each week to create a safe playing surface. It is also a good idea to use infield turf covers to protect heavily trafficked areas of the field from rain, frost and other weather conditions.
Together, everyone can help create a beautiful, safe baseball field for young athletes!
Shana Brenner is the Marketing Director of CoverSports, an American manufacturer of long-lasting, tough covers for gymnasiums and athletic fields.