"5… 4… 3… 2… 1… Blastoff!"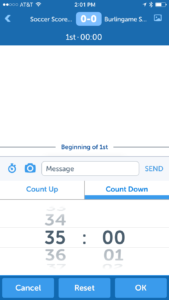 Counting down: It's not just for rocket launches and New Year's Eve any more!  With Android 3.6.0 and iOS 3.3.0, both released Wednesday, Sept. 23, the TeamSnap Live! game clock can now count down to that perfectly timed game-winning shot at the buzzer. And lest you worry the TeamSnap Live! game
clock is only available for soccer (which it was until this release), you can now use it for all sorts of other sports, including, but not limited to, ice hockey, basketball, football, snacking, lacrosse, rugby, field hockey, birdwatching, wrestling, ringette and yodeling.
To use the game clock in TeamSnap Live!:
While an active TeamSnap Live! event is running, tap on the cute little stopwatch icon to the left of the camera icon at the bottom of your TeamSnap Live! game screen.
The default setting is to count up when you press the play button, so if you'd rather have the timer count down (because math is hard), tap the Settings cog next to the time, choose Count Down, set the length of your period, tap OK, then press the start button to start the timer.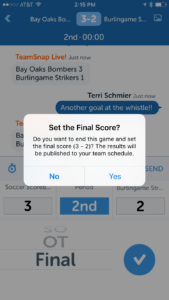 To reset it back to the same duration for your next period, simply tap the Settings cog again and tap Reset and it will reset the clock back to the same time you used for the previous period.
"Game Over!"
The No. 1 complaint we heard from those of you using our new TeamSnap Live! period and game clock feature (and BTW, I'm psyched when we get complaints like this because it means you guys are actually using our new features!), is that there was no way to indicate when a game was over.  We've now resolved that with a "Final" option in the period selector wheel. Not only does selecting this option stop the timer, it also posts the score to your team schedule and sends out a Final Score notification to the team. No more double data entry!