Create more professional-looking websites and show your club or league's face to the world!
Today, I'm proud to announce the TeamSnap Website Builder. With this addition to our TeamSnap for Clubs & Leagues product, athletic organizations can easily create beautiful websites that look awesome on any device, including smartphones, tablets and laptops.
Like many of our feature additions here at TeamSnap, Website Builder's creation has been a group effort, but the biggest contributor to our success has been the feedback we received from our customers.
As a product manager, one of my greatest joys is to work with customers to deliver features they will love. We asked Club & League customers exactly what they wanted in a Website Builder, and then we delivered on the five major themes they requested. Here are some stories behind each of those five features.
Create Polished-looking Websites
The first customer who dove in with both feet was Jason. He and I exchanged maybe 50 emails over a few months and was a pleasure to work with. Jason quickly built a great front page with a beautiful header. In fact, before we had a handful of our own demo sites, we used his site to show some of our early customers. Jason told me in an email that the possibilities of creating attractive pages with the Website Builder were "crazy large;" that really made me smile. Thanks to Jason, you can create beautiful websites using our Website Builder product.
Mobile Friendly
Earlier this year, about 50 of our existing Club & League customers responded to a survey that helped prioritize a list of potential website features. What was the most important feature, according to this survey? That our websites look great across ALL devices, including mobile. You asked, and we listened. Website Builder's sites are scalable and look great on a variety of devices.
Do It Yourself
One of our early Website Builder customers, Heather, was a school teacher who described herself as one who is "not afraid to click on things." Heather was able to create a great website for her hockey club by choosing page templates, dragging and dropping content, and configuring the look and feel of content sections. Heather is exactly the type of customer we had in mind for this type of product. Thanks to Heather, anyone can create a website for their club or league with our do-it-yourself product.
Made with WordPress
One of our first sales calls was with Kim, who had done some work building websites in the past. She was sold when she heard that our Website Builder is built on WordPress, the widely-popular website platform. If you haven't tried WordPress before, take it from Kim–it's really, really easy to use. Thanks Kim, for being one of the reasons that we are built on WordPress!
Integrated to TeamSnap
Website Builder makes it easy to display information pulled directly from TeamSnap, from both our team and our Club & League management product. Easily show divisions, teams, schedules and game and practice locations. One piece of early feedback came from Cody, one of our many league customers. At first, we only had listings for wins and losses, but Cody reminded me how important standings are for our clubs and leagues. Thanks to him, we can now show detailed standings, complete with winning percentage, games back, and even soccer/hockey points.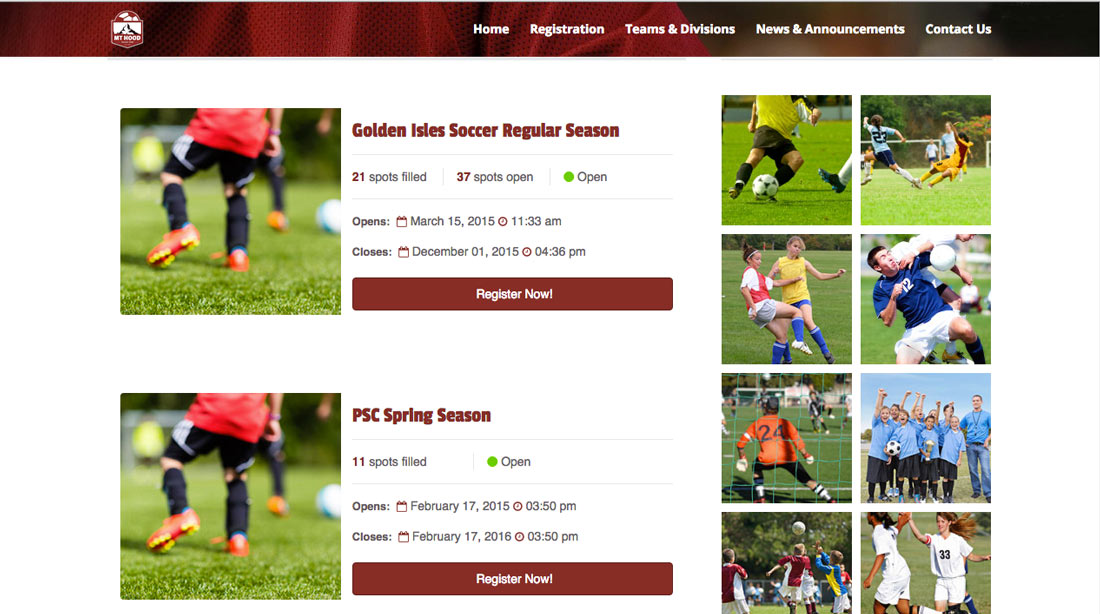 The TeamSnap Club and League Website Builder has our company name on it, but it's not just our product. It belongs to Jason, Heather, Kim and Cody, to every other customer who helped us make it, and to every customer who will use it. Receive a demo of the Website Builder if you're ready to see for yourself.
Mark Ringer is the product manager for TeamSnap's Club & League product. He's had a long career in the software business, including NASA, Honeywell's Research Center, BEA Systems and Rally Software. Mark enjoys taking care of his very old house, eating & cooking, running & cycling, rooting for the Ohio State Buckeyes and spending time with his wonderful professor wife and even smarter Border Collie mix Anabel.