What do the likes of baseball, football and soccer have in common? They're all typically played outdoors on fields and diamonds. And while this is perfect during the fall, spring and summer months, athletes are out of luck during the winter when these playing surfaces are covered in snow and ice.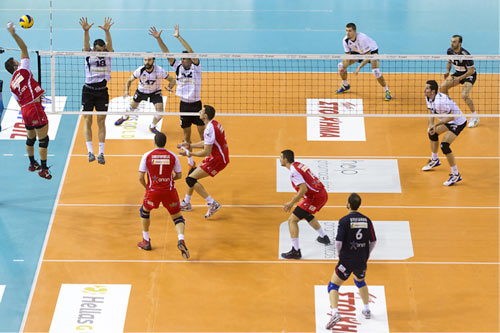 Thankfully, there are plenty of ways for athletes, both young and old, to stay active during the winter and plenty of indoor sports they can play while waiting for the ground to thaw. In fact, many of these indoor team sports are so enjoyable that many young athletes may find themselves electing to play them year-round.
With that being said, here's a look at the best indoor team sports:
Soccer: Yes, while soccer is primarily played outdoors, the indoor game is a popular way for soccer players to stay fit and work on their ball skills during the game's traditional offseason. The indoor game is played on a surface that's similar in size to a hockey rink, so generally the game is played at a faster pace and there's more scoring. It's usually played six-on-six (including a goalie). But aside from the different rules and surface size, there are certain things that make indoor soccer unique from the outdoor game. First of all, there's the presence of boards that players can play the ball off. Also, since the game is played on artificial turf, the ball is generally much bouncier.
Basketball: Arguably the most popular winter sport in America, basketball shouldn't need a long introduction on this list.
Hockey: Both ice and roller hockey have become more popular across the United States as the NHL has expanded into new markets. Both sports take a combination of skill, endurance and strength to play–making this an ideal sport to play during the winter.
Floorball: This is very similar to hockey, with a few exceptions. The game is played on a gymnasium surface. Additionally, much of the protective gear isn't necessary–most players just play in shorts and shoes (although shin pads and protective headgear may be necessary). It's either played with foam or real hockey sticks.
Volleyball: When some people think of volleyball, they think of the beach game that's played outdoors. But, as a team sport, volleyball is a winter sport that's played indoors. The game is played six-on-six, with two teams separated by the net. Matches usually consist of a best-of-three format, with the team that gets to 25 points first with at least a two-point margin of victory declared the winner of the set.
Handball: Think of handball as a hybrid between soccer, basketball and football. In this sport, two teams are pitted against each other, with the task of progressing a game ball and scoring on the opposition's net. It's played on a 40 x 20 meter court and teams play seven-on-seven (including a goalie). Similar to basketball, players that possess the ball must dribble it, with the exception of three steps that they're permitted to take without dribbling. Players are permitted to either pass, dribble or shoot the ball.
Just because winter weather is preventing you from taking to the gridiron or running out on the baseball field doesn't mean there aren't other sports to play and enjoy. In fact, there's a whole world of indoor team sports waiting for you.
Shana Brenner is the Marketing Director of CoverSports, an American manufacturer of indoor wall padding and athletic fabric covers with roots tracing back to 1874.