By Erica Salmon, TeamSnap user, team mom, writer and guest author.
As my son moves into more serious soccer programs, the cost and the commitment are intensifying. The commitment is one thing … the cost is another! To help defray the costs of our kids' academy, our team parents have been actively trying to do some fundraising. To date, we have sold cookie dough, raffled off NFL tickets and held two coin drops. But we find our kids asking the same neighbors and grandparents for support. The time has come to get creative! The time has come for Coach Bingo…. My sister (a football mom) recently ran a Coach Bingo Fundraiser at her kids' elementary school and cleared $11,000 in one night. You read that correctly!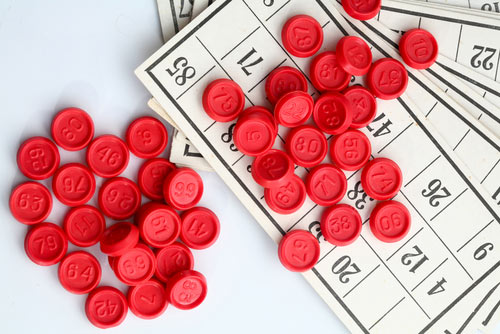 After a quick Google search, I find that most hits for "Coach Bingo" are from my area, which is South Jersey. Some organizations host "Designer Bag Bingo" which might include other brands in addition to Coach such as Kate Spade and Michael Kors. My feeling is many organizations focus on the Coach brand because it is universally popular and the bags are readily available at a discount at Coach outlet stores.
If you are not familiar with Coach Bingo or Designer Bag Bingo,  I will give you a quick rundown as well as a few strategies for running one if your team wants to give it a try!
1. Women (typically) gather at a winery, a church basement or a school gym to play Bingo. They pay an entrance fee ($20 to $40) and receive a Bingo card or two. If they want to "up" their chances of winning, they can purchase additional Bingo cards for an additional cost. There may also be raffle tickets for sale for door prizes, a 50/50 or Chinese auction-style baskets. These are all "add-ons" to the entrance fee. The "add-on" sales add up!
2. Women usually sit at tables of 8 or 10, and the Coach Bingo events I have attended allow you to bring your own food. (Brilliant! No food or catering costs for the presenting organization!) When the events are at a winery, each guest receives a few tastings with her entrance fee, and then women usually buy bottles of wine for their tables. (If negotiating with a winery, ask them to waive an event fee. They will make a boatload of money from wine sales!)
3. A caller starts the Bingo and each time someone gets Bingo, she wins a Coach handbag. There are usually 16 rounds of Bingo and 16 Coach bags up for grabs. (Some people have two prizes per round, or 32 bags.) Sometimes, there are ties, and if that's the case, you need a tie-breaking strategy. (Check with your state, however. New Jersey has laws against ties at Bingo. Or so I am told!) The organizers I know who have hosted Coach Bingo get the Coach bags by scouring outlet stores or looking for online sales.
Those are the basics. The evening lasts 2 to 3 hours. Most women buy "a table" and then rally friends to buy a seat at their table for what always turns out to be a really nice "Ladies Night Out."
So what does this mean in fundraising dollars? If you have a facility that can hold 20 or 30 tables of women, you are looking at 200 to 300 attendees. If guests are paying a bare minimum of the entrance fee ($20 to $40 each), you are doing pretty well! I have seen some other creative ways to maximize the event. For example, I have seen events where there is a "cash and carry" table. After so many rounds of Bingo during which someone else keeps winning, women want a bag! The cash and carry table is there for women who just want to go home with a new bag!
If you are looking to make a significant amount of money for your team or club and want to try something new, I highly suggest a Coach Bingo. Keeping in mind my sister's $11,000 Coach Bingo success, my team would need to sell 1,833 tubs of cookie dough to make $11,000 considering we earn $6 of profit per tub. And no one walks away with a cute new handbag….
Erica Salmon is a TeamSnap Mom, often seen on the sidelines of youth soccer, baseball, field hockey and basketball games as well as at dance recitals, concerts and art shows. Erica is a book author, former fashion analyst for NBC10 (Philadelphia) and the founder of several Websites and blogs including Fantasy Fashion League and Red Carpet Mom. Erica lives in Mullica Hill, NJ, with her husband, three children and their enormous dog Elvis.