This article was inspired by my friends, CJ Stewart and Emmitt Smith
I love the start of the youth sports season. You can see and feel the excitement and anticipation in the air. Kids from every demographic and every level of experience and talent come together on one practice field.
"You only get one chance to make a first impression."
I agree with that statement. The coach must set the stage for a successful season with his or her first impression at the first practice. Every coach wants a team of players that trust each other, help each other, rely on each other and believe in each other. But how do you get a group of young kids to do this?
The answer is with goals!
Every person, regardless of age, wants to be successful. The first step in being successful is defining your goals. Otherwise, as Tony Evans says, "…you just might make it to the top of the ladder and find it was leaning against the wrong wall." Or as my father told me, "Any road will get you there if you don't know where you're going." A child is never too young to learn how to set personal goals, and I assure you, this is the ideal opportunity to get started.
Start your season by having each player write down his or her goals. Do this by printing out index cards for each player with three statements that he or she must complete.
My <name sport> goal for this season is…
My school/academic goal for this school year is…
My five-year goal is…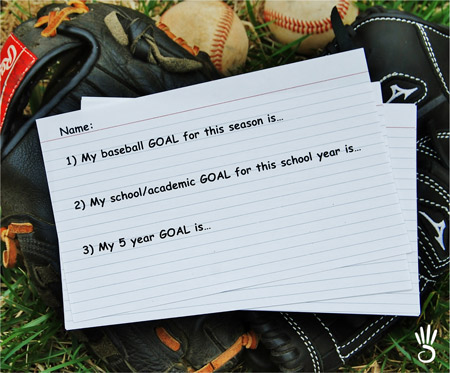 Hand out the cards as part of your introductory talk at your first practice. Explain to the players and parents that as the coach, you are committed to coaching each child individually as well as the team as a whole. Emphasize that it's difficult for you to get kids to work together as a team if you don't know where they want to go as individuals. Ask the players to fill in the cards and return them to you at the next practice. Make copies of the cards for the parent and player if they haven't already done so.
Here's an amazing fact about individual goals: They rarely exist! There are very few goals that can be achieved without the support and help of others, either directly or indirectly. For instance, if a kid wants to hit an out-of-the-park home run, he or she needs a few things to happen to make that goal a reality. That player needs solid batting practice with teammates, encouragement and support in the dugout and as many at-bats as possible. The list goes on, but you get the point. Establishing and writing down their personal goals will develop a team of kids that will rally around each other and help each other achieve their goals.
Why the five-year goal? The five-year goal is the fun one. This goal will range from the absurd to the amazing. The main point of this goal is the question, not the answer. It's important to give kids a perspective on growing up and working toward something big. So have fun with this one.
Throughout the season, encourage the parents to discuss their children's goals with them. As the coach, take time to talk to each player about their progress and what he or she is doing to reach their goals.
A team is a group of individuals that shares a common interest and Always Play IV Each Other in pursuit of it. Teach your kids how they can achieve their goals by helping their teammates do the same. Good luck and have a successful season.
Brad Jubin is a volunteer youth coach in Peachtree City, GA. Together with his family, Brad founded www.APIVEO.com. APIVEO (Always Play IV Each Other) is a free resource that leverages Brad's personal experiences as a youth coach to help other coaches teach kids about leadership and character through a series of fun and engaging lessons. For more thoughts on youth sports from Brad Jubin, be sure to check out our podcast interview with him, "Developing Leaders in Youth Sports."