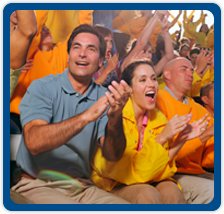 It is tournament time again, and if you have kids playing sports, it is likely that you will be spending at least a few upcoming weekends at a rink or gymnasium. That means a whole lot of action packed competition… and a whole lot of down time. We partnered with Theresa of  the"Hockey Mom in Canada" community, who has organized an incredible and engaged network of (you guessed it) hockey moms to ask them how they pass the time and stay productive at the rink. They offered up some great ideas and we have added a few of our own to help you get the most out of your time.
Come prepared: If you have younger children, consider putting together a backpack with games, books, crafts and other activities that will keep them occupied throughout the day. Often the snack bar and vending machines do not offer many healthy options so consider packing light snacks like fruit, carrot sticks, pretzels, or a turkey sandwich. Bring along a cooler with a variety of drinks such as water, Gatorade, and juice. And if you still have some extra room, don't forget to throw in those pom poms and cowbells to maximize your cheering.
Volunteer: A lot of organization goes into running a tournament so consider getting involved and offering your assistance. Carrie from Saskatchewan says, "When your son or daughter joins a team, so do the parents and that is where "teamwork" comes in. Helping out makes for more enjoyable and memorable days at the hockey rink with your children!." If your team is hosting the tournament, offer your assistance in running the hospitality table or directing visiting teams to their locker rooms. You can also help to organize and sell tickets for the 50/50 raffle or learn how to run the time clock for games. Still not sure where to start? Ask the tournament chair what you can do to help them.
Stay Productive: Many arenas are starting to offer free Wi-Fi so now you can bring your laptop (or smart phone) to catch up on emails. Use the time to take care of paperwork that you have been putting off, update your calendar, or make your to-do list for the upcoming week. And for the multi-athlete or multi-sport parents who can't limit themselves to just one athletic competition in a day, Joyce from Ontario suggests pre-programming your GPS for the next arena or destination.
Relax: Sports parents often don't get to do this enough. If you find yourself with a few hours in between games, it is nice to spend time with the other parents. Grab a coffee, go out to lunch, or visit a local shopping mall. If it's your first time in the area, go for a walk or explore the local activities in the tournament town. And if you really want to take it easy, bring along newspapers or the book that you have not been able to finish and spend some time reading.
Do you have additional suggestions or ideas for other parents? Post your comments below. And don't think that we forgot about the kids. Next week, we'll be sharing a follow up post on tips to keep the players occupied and safe during their time off at tournaments.