What's been going on in the world of TeamSnap? We're glad you asked! We've got tons to cover in this edition, including:
If you haven't already, don't forget to set up your team on TeamSnap!
Check out our Webinars for Clubs & Leagues!
Forget about checks, visits to the bank and on-site registration. With TeamSnap for Clubs & Leagues, your registration is 100% paper free! Attend a webinar to learn more.
Importing Players From Another Team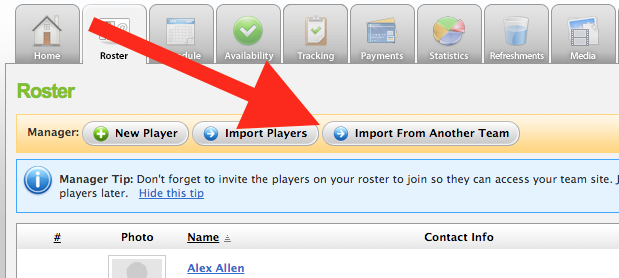 Filling out a new roster? With just a few clicks, you can now invite any current or former players or teammates to your
new team.
TeamSnap is Hiring!
Do you like flexible work hours, ego-less bosses and the ability to work from home (pants optional)? So do we, and we're hiring in Analytics and Engineering!
On the Road to Success, Avoid Shortcuts!
Shortcuts? Who needs 'em? Teach your young athlete about the benefits of hard work with the tips in this blog.
Get Your Sports Schedule Ready
Are you preparing for your upcoming season? Check out these six key questions for scheduling success from the Coaching Association of Canada.
Thanks for joining us! For 24/7 team access, don't forget to update to the latest version of our mobile app. And if you haven't tried it yet, what are you waiting for!? Download the mobile app for iOS or Android today!