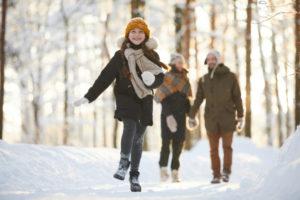 The days are getting shorter, the wind is getting chillier, and most sports are entering the off-season. Practicing health and wellness in the winter in order to stay healthy for sports can be a challenge. When it comes to winter health and wellness, there is no off-season, so it is important to find ways to get in a workout, stay healthy, and do all you can to get back on the field or court.
Here are our tips for practicing health and wellness this winter. 
Practice Healthy habits
Winter is one of the most common times for cold and flu. Make sure you wash your hands regularly using soap and water for at least twenty seconds or use an alcohol-based hand sanitizer. If you are not feeling well, stay home and take it easy so you don't get others sick. Practicing basic health-focused habits can help you avoid getting sick this winter.
Enjoy the Great (but Chilly) Outdoors
Even in the dead of winter, there are a few days of sunshine that you should take advantage of. Being outside can help improve your mood, which is great if anyone in your family suffers from seasonal affective disorder (SAD). Whether it's a quick snowball fight or enjoying a warm winter day, being outside helps release serotonin in your body, helping keep you happier and healthier this winter. 
Have Fun With Winter Activities
When you're spending time soaking in the winter sun, try taking part in some winter favorites. Sledding for just a half hour can burn up to 200 calories—and make for great fun with the family. If there is no snow near you, check out the nearest ice rink for a great aerobic exercise.
Take Your Workouts Online
Whether it's joining your favorite instructor for a weekly virtual class, or looking up your favorite yoga video, there are plenty of online workouts the whole family can enjoy. Virtual exercises can help you keep your fitness routine going strong — even from home. 
Lighten Up Holiday Meals
It's no secret that the traditional winter holiday meals are not exactly "healthy." However, there are always ways to tweak recipes to make them healthier. From swapping to wheat rolls or mashing up cauliflower instead of sweet potatoes, there are delicious and healthy ways to change up the holiday dinner table. Before adjusting your kid's diet at all, make sure to discuss with their doctor or a health specialist first.
Don't let the cold weather and early sunset get you in a fitness rut. With a few simple changes and some winter fun, you can practice health and wellness with the whole family this winter.
Nanci Zurek is a copywriter striving to tell stories that resonate with people and connect them with brands trying to make a difference. She seeks inspiration from hiking the mountains with her dog.