Since writing my last two blogs on concussions, the first focusing on youth football and then on soccer (based on reader requests), I don't think a day has passed where I haven't read an article, a statistic, or a quote about concussions. The topic has clearly risen to the point where it cannot be ignored any longer, and this week's announcement by the Institute of Medicine (IOM), part of the National Academies of Science, of a sweeping study of the rise in youth sports-related concussions is a huge step in the right direction.
But something else crossed my Twitter feed this week that caught my eye: the number of catastrophic injuries, including concussions, sustained by a group of athletes in a sport that many don't consider a sport: cheerleading. And yes, I called them athletes, because that's what they are. If you think cheerleading only involves a few dance moves and shaking pom-poms, you haven't seen cheerleaders lately.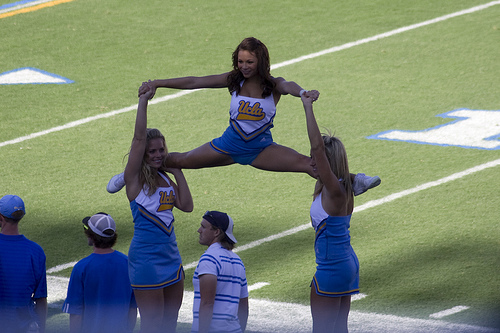 The injury statistics for cheerleaders — primarily women, but men participate as well — are staggering:
In all sports recognized by a high school athletic association and the NCAA, instructors and coaches must be certified, and a medical expert or athletic trainer must be present on the sideline. Because only 29 states' high school athletic associations recognize it and the NCAA has not, to-date, classified cheerleading as a sport or an 'emerging sport', most of these athletes are performing basket tosses, flips, pyramids and a variety of other dangerous moves on a daily basis, with no medical professional nearby to diagnose a concussion or other injury. Could you imagine this scenario happening in football, soccer, basketball or any other recognized sport?
Some observers note that one of the reasons cheerleading has not been recognized as a sport is because of Title IX implications: recognizing cheerleading as a sport could result in high schools and colleges cutting other girls' sports. On the other side of the equation, some organizations don't want schools to recognize cheerleading as a sport because that could increase the number of competitions cheerleaders attend, potentially leading to more injuries.
In the meantime, more than 500,000 high school female athletes are being thrown into the air with nothing more than their teammates arms between them and catastrophic injury. If your jaw just dropped, join the club.
While concussion rates in cheerleading are low compared to other girls' sports, they are increasing, and I hope that the new study announced this week takes cheerleading statistics into account, because cheerleading most definitely IS a sport.
A final note: I'll be in New York next week participating in a Health and Safety event sponsored by the NFL. Representatives from the NFL and USA Football will be presenting. Follow me on Twitter @emilygcohen for more details.
Emily Cohen is a freelance writer living in Berkeley, California. An avid tennis player and swimmer, Emily has a son who plays high school baseball and a daughter who plays Class I soccer and middle school volleyball. She has been a team manager for a number of her children's sports teams. You can find Emily's blog about youth sports parenting and team management here at tsblogadmin.wpengine.com. Follow her on Twitter at @emilygcohen or email her at emily@emily-writes.com