You may have noticed a bunch of new features we rolled out in the last week or so, all based on customer requests. We're super excited to have you try them out. Here's a rundown of what's new in our sports team management software.
Availability Notes
You can now enter notes when you set your availability — yay! Here's how it works:
When you're on the Availability tab and you hover over any checkbox, you'll see a little pencil appear to the right.

Click on that pencil and it will pop up a window where you can leave a note about your availability, such as "Hey, I want to carpool."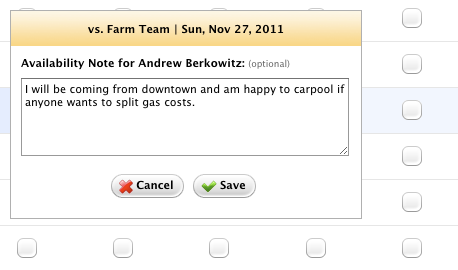 By default, everyone on the team can read everyone's notes (so don't put intimate personal details there), but team managers can also set notes to be readable only by other managers. Team managers can also enter notes for any player on the team.
You can quickly see at a glance who has left notes with their availability by looking for the little dialogue bubble next to a checkbox. Simply hover over the balloon to read the note, or click on the balloon to edit or delete.

Thousands of people have already entered availability notes into the system since we launched this last week. We're very excited to see people using the feature and we hope it makes it even easier to manager your teams!
Sticky Availability Header
Speaking of Availability, in the past, scrolling down on the Availability page would cause the header row (which lists all the games and events) to disappear off the screen. It wasn't always easy to tell at a glance which game or event corresponded to which checkbox (especially if your name was in the second half of the alphabet). Well no more! We've anchored the header row to the top of the screen, so whether your name is Andrew or Zach you can always tell which checkboxes belong to which events.
New Game/Event Notifications
Now when you create a new game or event, you'll see a checkbox that lets you automatically generate an email to the team informing them of the addition. This is an easy way to keep everyone updated when you add an event to the schedule.
There is also a similar checkbox when modifying an existing game or event that can send an email out about the change.
Public League Page
If you're using our TeamSnap for Leagues and Clubs product for league management, we now let you create a public site for your league to display the schedule, standings, messages and contact info. Look on the Settings tab for a link to your public league page. Not using TeamSnap for Leagues and Clubs yet? Contact us to learn more!
Next Week — More New Features
We've got a couple other new features that we're rolling out in the next few days. Stay tuned for those!