If you're a longtime TeamSnap user, we're willing to bet you know your way around the app. You know all about importing your schedule, sending team messages and seeing who's coming to the game and who's not.
But that's not all we can help you do. If you're ready to level up your knowledge, check out these three TeamSnap hacks.
Customize Your Experience
TeamSnap stores a lot of information. Emails, phone numbers, birthdays–it's all right at your fingertips whenever you need it. But what about those important details that don't have their own fields?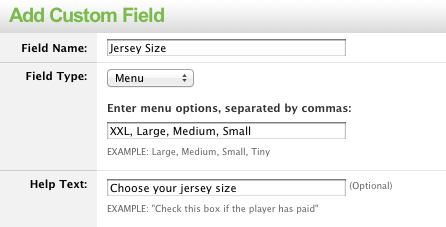 Say hello to our custom fields feature. With these, you can create your own text boxes, check boxes, menus or date fields so you and your players can enter any kind of info. These are perfect for keeping track of miscellaneous details like jersey size, allergies, preferred snack options or favorite Pokémon.
If you'd like to use custom fields, upgrade to our Premium plan, log in to the web app and head over to the Manager tab. You'll notice a new option labeled "Custom Field." Click that, then click "New Custom Field." Now just fill in all the necessary info, click "Save" and you're ready to go.
Location, Location, Location
Is the new sports season underway for your team? If so, you're probably playing at facilities with multiple fields. To ensure your players know which one to go to, use the location details field.
When you enter a new game, you'll see this field right below your location. Go ahead and enter anything you want in there: Field 5, Maple Field, the field with no name–whatever helps your players get to the right place.
Time Is On Your Side
Some parents, coaches and scorers keep track of game time with a stopwatch. But can your stopwatch also keep track of the game score plus what period, quarter or half it is? With TeamSnap Live!, you can do all that and more, right on your phone.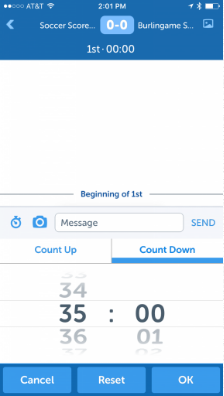 Just download our handy mobile app free for iOS or Android, then tap the TeamSnap Live! menu option. When your game is underway, tap the stopwatch icon to the left of the camera icon at the bottom of your TeamSnap Live! game screen. Now you're set to start the game clock and keep score.
If you're loving location details and the TeamSnap Live! game clock, log in to your account or download our mobile apps. And to try custom fields, upgrade your plan today!
Kyle Massa is the content associate manager at TeamSnap. Outside of work, you can find him writing, reading and playing guitar for his cats.