---
Youth Hockey Helmets Fail New Concussion Safety Test
---
Photo: Stefan Duma Ph.D., head of Virginia Tech's Department of Biomedical Engineering and Mechanics and the Harry Wyatt Professor in Engineering
Article By Dan Peterson, TeamSnap's Sports Science Expert
It's every parent's nightmare. Your 8-year-old son's hockey teammates head down the ice after the puck, but he stays face down by the blue line. It may have been a collision with another player or stick or even a headfirst slide into the boards. After regaining consciousness, he and his coach skate slowly back to the bench. While his certified hockey helmet survived without a scratch, his confusion and blank stares are the first signs that the damage was done inside his head. The fog of concussion hangs over him and the waiting game of recovery begins.

As parents, we do everything we're told to protect our young players; wear a certified helmet, use a mouthguard, keep body-checking out of the game until they're older. But, hockey is still a contact sport and there are inherent risks of playing at any age. We trust that equipment manufacturers will offer the safest protection possible to absorb the hard hits. But, to make sure, we need objective, third party research to give us the facts.

Following up on their recent analysis of football helmet safety, a biomedical engineering team at Virginia Tech University turned their attention to testing hockey helmets for their ability to protect against concussions, in addition to more serious skull fractures.
Using a five-star safety rating, only one of 32 helmets tested in their lab received three stars, with protection described as "good." Six helmets earned two stars or "adequate" and 16 helmets were rated with a one star "marginal" score. Surprisingly, 9 commercially available hockey helmets earned zero stars and a "not recommended" warning label.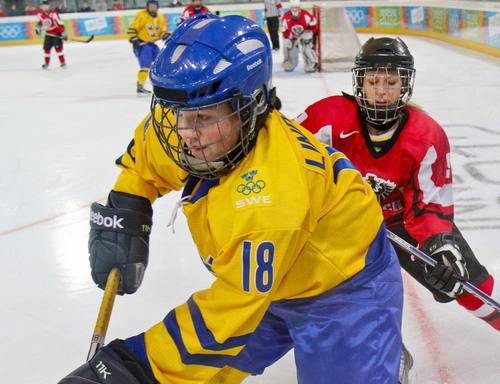 Professor Stefan Duma, who heads up VT's biomedical engineering department, and Steven Rowson, an assistant professor, spent ten years developing the testing and ratings system for helmets of any sport and the last three years working just on the hockey project, which is known as the STAR (Summation of Tests for the Analysis of Risk) Evaluation System.

"Our focus is to improve the safety of the sport, and we have spent a great deal of time developing the methods and relaying these to the manufacturers so that they can optimize their designs," said Duma. "Our hope is to see new helmets come into the market with improved performance."

Two helmets of each model were subjected to robotic arm pummeling from four directions at three speeds inside a laboratory at VT's Institute of Critical Technology and Applied Science. Cost of the helmet did not correlate with its safety rating. Cheaper $100 helmets outperformed $300 helmets in the STAR evaluation.

The research findings have been published in the Annals of Biomedical Engineering.

"Hockey has the highest rate of concussion of all sports. Football has more, but more people play football," said Rowson. "By rate, hockey is the highest, especially for female hockey players. They have a range of bodily injuries, but we are focused on brain injuries and reducing the risk of concussion."

Does this type of public education on helmet safety make a difference with the manufacturers? Four years after releasing the first football helmet ratings, all five of the new 2014 adult football helmets put out on the market first achieved five star ratings from the STAR program.

Over the next ten years, Duma hopes to have added ratings for youth football, baseball, softball and lacrosse helmets. Still, there may never be the perfect helmet that stops all concussions.

"There is no concussion-proof helmet, but the better helmets lower head acceleration and that lowers risk." said Duma.

In addition to safer helmets, a group of researchers have just released their updated report on making hockey a safer game for young players. The paper, "Ice Hockey Summit II: Zero Tolerance for Head Hits and Fighting", reflects the discussion and recommendations from a 2013 conference looking at the latest science on concussions in youth hockey.

The article can be found in the March/April 2015 issue of the ACSM Current Sports Medicine Reports.

Specifically, the medical experts call on hockey administrators to:
eliminate head hits from all levels of ice hockey,
change body checking policies and
eliminate fighting in all amateur and professional hockey.
Better helmets and safer rules may also mean more years enjoying hockey, instead of having to move on to a new sport at the age of eight.
---
NEW!

Free Sports Organization Resources

All of TeamSnap's ebooks, articles, and stories in one place. Access Now
---