New!
Health checks
simplified
Administer, manage and track required health checks using an app that 24 million users already rely on—it's free for all TeamSnap customers during the COVID-19 pandemic.
Return to sports safely, hassle-free and at no additional cost
Available for free to all TeamSnap users
Health Check will be unlocked for all customers at no additional cost during this unique time, whether you're on an individual team plan or using our Club & League solution.
"I am super excited about this. In 2020, this comes in clutch."

Whitney

, Corner Canyon Mountain Bike Team
12,000,000

+

Thank you to our TeamSnap customers for being part of the safe return to play! Read announcement.
Meet new health requirements with fewer apps
You and your members don't need more apps to juggle. Easily administer and collect self-assessments directly in TeamSnap!
"This is a dream come true as an organizer. You guys at TeamSnap are wizards with programming. Looks pretty perfect."

Mike

, NY Bluebirds
Customize the screening questions
Meet your governing body or local health department requirements by customizing the screening questions shown to your members.
Only available to organizations using TeamSnap for Clubs & Leagues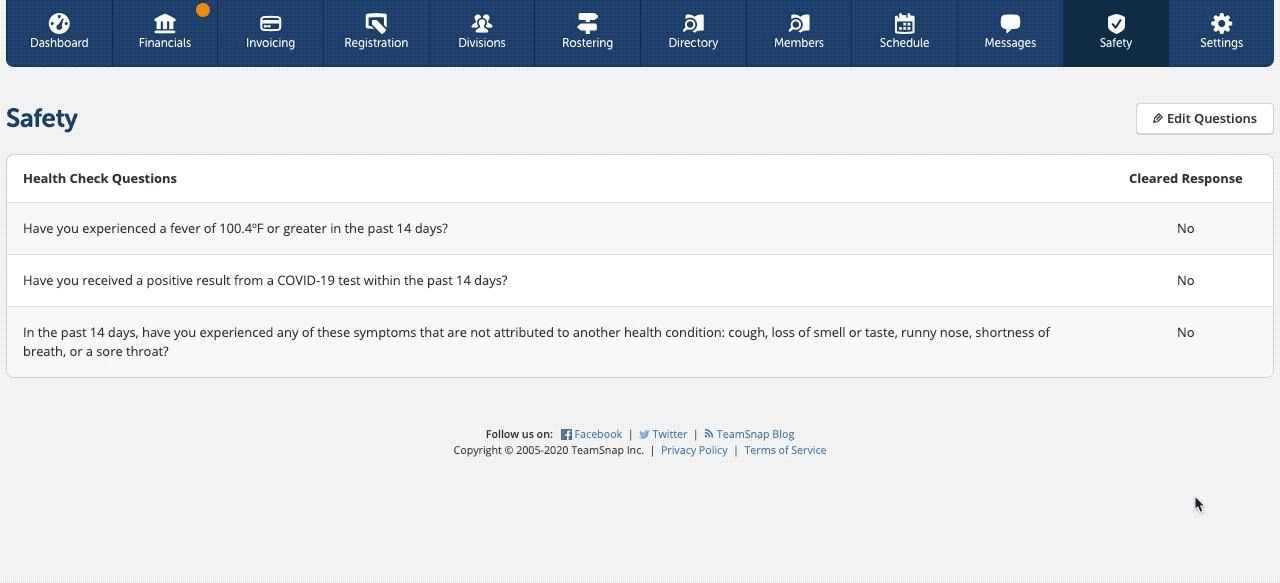 TeamSnap believes protecting your athletes, families and sports organizations during the pandemic should not cost you.
A new normal does not need to be a new hassle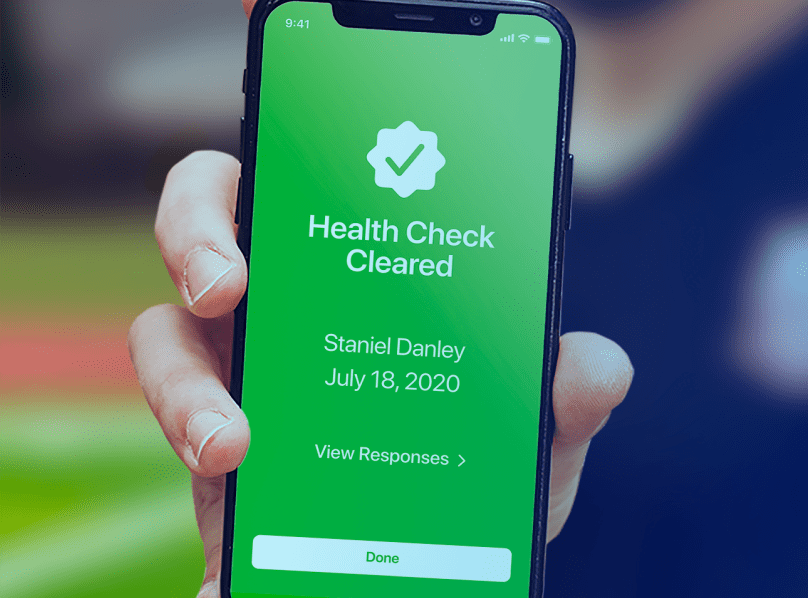 No scrolling or searching required
Members simply flash their clearance screen when they arrive—indicating they're cleared to participate.
"This is great news! Thank you so much. I appreciate your commitment to helping us keep our athletes and coaches safe."

Paul

, Calgary RATH
Up-to-date member health status
Health checks will only open up 8-hours prior to an event, meaning members cannot complete assessments for practices and games days or weeks in advance, and you have the most up-to-date information.
Privacy for your members
Members' health check status is only visible to coaches and admins—and stored for only 90 days.
Getting Started
Are you an existing customer?
Health Check is available in the latest version of the TeamSnap app.
TeamSnap makes running your back office a breeze. Talk to us or sign up for a demo.
Sign up for a demo
Create a team right now for free. Getting started is easy—Health Check is no additional cost during COVID-19.
Get started
Return to Sports With Confidence Resources