Thanks to TeamSnap and great features like TeamSnap Live!, it's now easier than ever to proudly share your game photos with other parents, friends and family members. But getting that perfect shot isn't easy. Sometimes the action is too far away or you're fighting against the late afternoon sun. Other times you miss the perfect moment because your smartphone camera just doesn't have a fast and powerful telephoto lens that can really capture the action.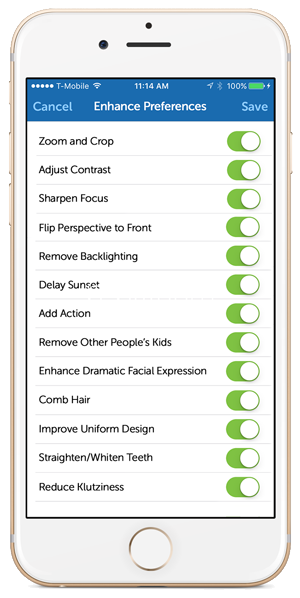 You could use the built-in iOS or Android photo editing tools to try to edit your photos — or export to a heavy-duty application like Photoshop or Lightroom — but that's time-consuming and difficult. Few of us really understand how to adjust things like hue, contract, cropping and dynamic color range to get the best result.
Which is why we're thrilled today to introduce TeamSnap's One-Touch Photo Enhancement. Now you don't have to be a photography expert to get the very best shots at the game. By analyzing the millions of photos our customers have shared within TeamSnap, we've developed a powerful sports-specific editing algorithm that takes the guesswork out of enhancing and improving any action photo. Simply point, shoot and then tap the One-Touch Enhancement button (or just shake the phone while viewing any photo). TeamSnap automatically analyzes and fixes your photo instantly, running a dozen advanced filters that take your picture from pedestrian to amazing.
Absolutely no photography experience is necessary, and you no longer have to worry about getting the perfect angle, being too far away or missing the action. You'll love the compliments you get on your photography skills, and your actions sports photos have never looked better. Best of all, One-Touch Photo Enhancement is available today on the latest version of TeamSnap for iOS and Android.
Most of us aren't professional photographers, but now every photo you take — no matter how rushed — can look like something straight out of a sports magazine. Give One-Touch Photo Enhancement a try today!
In the brief video below, TeamSnap Chief Creative Officer Andrew Berkowitz demonstrates One-Touch Photo Enhancement in action. Check it out!
Andrew is TeamSnap's chief creative officer. He also works in product, business development, marketing and strategy. In his spare time, Andrew teaches, performs and directs improvisational comedy with ComedySportz.