TeamSnap proudly integrates with US Lacrosse to verify all of your players for the season. With this integration, you no longer have to worry about completing registration only to find out some of your players' identifications aren't up to date.
TeamSnap and US Lacrosse lets you to verify your registrant membership with USA Lacrosse within your registration form. This ensures that those players with expired or soon-to-be expired memberships can update them pronto.
For lacrosse clubs and leagues this feature allows for a seamless all-in-one solution for getting the season started smoothly and organized. Now that you know about this integration, how does it actually work?
If you haven't already signed your lacrosse club or league up with TeamSnap, here's how to get started.
Log into TeamSnap.
Enter your club or league under the My Organizations section of the Dashboard screen.
Click the Registration tab.
To create a new form with the verification fields:
Click the +New Registration Form button.
Select US Lacrosse Membership from the template dropdown.
You will see the verification fields under sport info when building out your form.
Continue to complete the rest of your form set up as usual.

Follow this step-by-step guide.
Pro tip, our system will detect registrants who have expired IDs. Instead of just flagging this, we also will help you work directly with US Lacrosse to get things squared away before the season kicks off. This integration is to directly help our customers field teams, compete at all levels, and focus on playing. We understand the frustration around registration and the added tasks of verifying through a governing body. Because of this, and listening to your feedback, TeamSnap makes it easy. Don't worry about the legwork nor ID refreshing, just lean into TeamSnap and let the seamless integration take care of all of the backend work.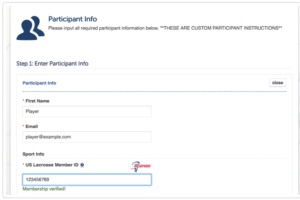 "Going forward, it's going to be a lot simpler with TeamSnap. The single point of integration is going to be great. We're pulling directly from the TeamSnap registration site into the TeamSnap page or league. It's huge."
Belles Lacrosse Club turned to TeamSnap for a simple, streamlined registration process. They wanted a reliable way to communicate on game days and were hopeful for a single-platform to manage everything across the club. Belles Lacrosse utilized TeamSnap registration, communication tools, and the tournaments and website builder. Now, Belles Lacrosse Club has drastically cut down their manual data entry and validation, clearly communicates across all of the teams, and can focus on the good stuff: playing.
Do you or someone you know need help managing their lacrosse team or club? Sign up for a free 21-day trial today. Or check out our club and league solution, TeamSnap for Clubs and Leagues if your team is part of a larger sports organization.