Here's how administrators can organize volunteers using TeamSnap Registration.
Volunteers are the unsung heroes of our youth sports teams and leagues. But, how do we keep our volunteers organized? Using TeamSnap registration, this is a breeze! 
Running a youth sports league would be difficult without our volunteers. From gameday duties to hosting sports league social events to fundraising, these volunteers accomplish a lot for our organizations.
TeamSnap for Business shares how to organize and manage league volunteers using TeamSnap Registration. 
How to Organize Volunteers Using TeamSnap Registration
Administrators can customize the questions on your form whenever you host a new registration season. Add a simple question for family members, "Are You Interested in Volunteering?" with a "yes" or "no" response option. You can make this question required or optional. Question settings can be customized even after the form is live.
This ensures that the volunteer will receive the same schedule, messages, and other relevant information on their team or league throughout the season. Volunteers can sign up for various opportunities such as merchandise vendor, supply drive coordinator, and much more. 
TeamSnap Registration also features advanced logic, which allows you to show the volunteer question (or other questions) only if a previous response is given. 
While we do love the use of volunteers, administrators also understand that some family members are just too busy during the season. Give these people an easy out. For a small fee (paid during registration), let some of those super-busy parents opt out of their volunteer duties. Optional fees can also be added to this question when designing your registration form.
This is an easy and efficient way to collect more payments during your registration season. And it will help drive down costs for some of the other members of your league.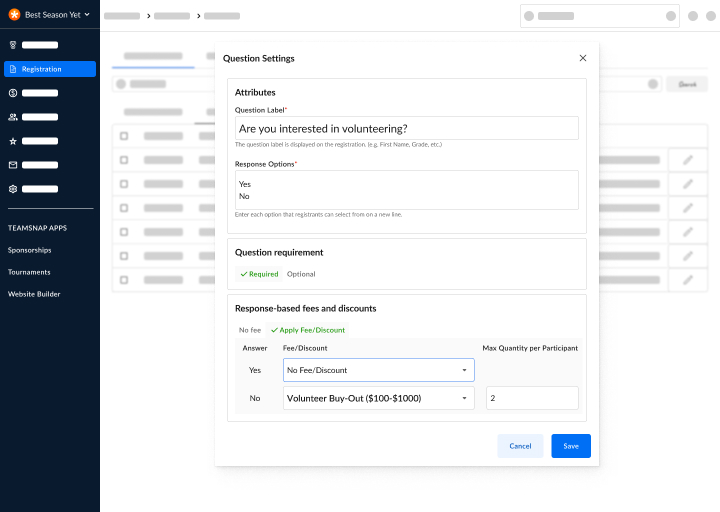 New TeamSnap Registration, available on TeamSnap for Business 
Want to learn more about the new registration system, only available on TeamSnap for Business? Head on over to our registration page or sign up for a personalized 1:1 demo today. 
You can also visit the TeamSnap Playbook to learn more tips and tricks to making the most of our platform.