This Mother's Day, and every day, TeamSnap celebrates the parents and families that commit endless hours each week to playing and supporting youth sports.
While "soccer mom" has many definitions, at its core it's all about dedicated moms who provide their children opportunities to play the sport that they love, specifically, soccer. TeamSnap got to speak to a few dedicated soccer moms in New York City that have used TeamSnap for their children's youth soccer teams.
One mother, who has two daughters playing soccer for the same club, but for different age groups told TeamSnap: "I do think having one platform for both kids is helpful because it's forced organization. You have one calendar to manage locations, date, time, and RSVPs so you can easily coordinate carpools." A
Another mother, who also has two daughters that play for GJOA Soccer Club in Brooklyn, NY said, "Having two kids who play soccer can be hard to juggle between all of the practices and games. TeamSnap has made coordinating and organizing our schedules easier."
TeamSnap has many features that help with scheduling, communication, and last minute reminders. TeamSnap is known for making parents happy, and here's why.
TeamSnap allows parents, who are like these busy New York City moms with more than one kid, the ability to be in two places at once. TeamSnap's messaging feature is frequently updated with scores, player highlights, photos and videos which allows parents to stay updated even when they are attending a different game.
Learn more about the communication center!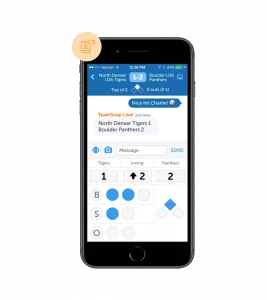 Whether you are a soccer mom, a sports mom, or know a sports mom in your life, this Mother's Day is a special reminder that you are appreciated. TeamSnap has put together a list of potential gifts a sports mom would like in the past, but this year the best gift of all is sports ARE BACK. Sports parents are the happiest when they see their kids out on the field, court, or rink. TeamSnap continues to dedicate our energy to providing the best product to keep sports fun, managing multiple kids and sports easy, and the soccer mom feeling her best.