TeamSnap's Availability tools help you know who can be at any practice, game, event or team meeting. In just a quick tap, players can mark availability months in advance, which makes planning rosters, coordinating carpools, and booking fields and courts so much easier. 
Lock Availability
The last thing a coach or team manager needs is a last-minute change to availability before a game. The lineup has been set, players are en route, carpools are planned. With all of the pre-game activity, it's possible a coach or manager could miss a sudden update when a player changes their Availability to no. Thankfully, TeamSnap offers team owners and managers the ability to lock Availability.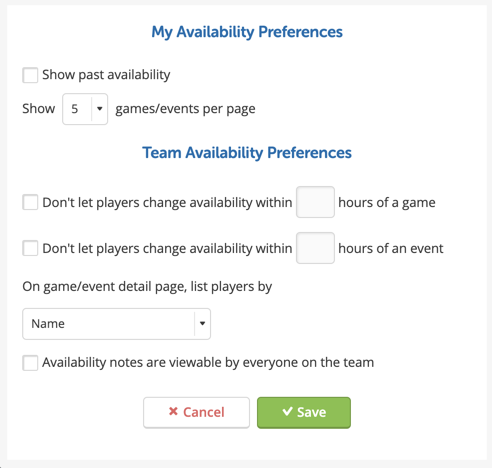 This feature prevents team members from changing the availability they submitted within a set number of hours before a game or event, making organization and planning much easier for coaches and managers. 
How to Lock Changes to Availability
Log in to your account on the Web.

Go to the Availability tab and click Availability Preferences. 

Set the number of hours prior to your games or events that you would like to lock the option to make changes.

Click Save.
For detailed directions, visit the Help Center.
But, that's not all Availability has to offer. Did you know you can use Availability to track game and practice attendance?
How to Track Attendance with Availability
That's right! Say goodbye to spreadsheets, pencils and clipboards.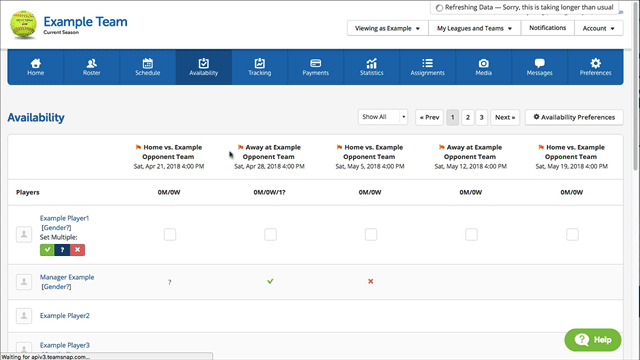 In order to use Availability for attendance, the team owner needs to lock Availability in advance of the event (otherwise a player could say they were there when they weren't). Teams on a paid plan can use the availability feature to gather and track team member attendance to scheduled games and events. Team owners can mark a player's availability for scheduled games and practices, and view historical availability in a tap. For those who like holding a clipboard with paper, we have good news! You can export attendance as a CSV for all your spreadsheet desires.
Whether it's tennis, soccer or chess club, we have you covered. You play it, we support it—from youth and adult teams to recreational and competitive teams, to everything in between. Log in or sign up to add your team now.