How to Use TeamSnap for Adult Tennis
Essential hacks to maximize TeamSnap for tennis
If you are a tennis captain, you probably spend a ton of time dealing with player availability and logistics and assigning who's bringing snacks and drinks. We created this guide to maximize TeamSnap for your recreational tennis team. 
In this guide, we list dozens of tips to reduce time in all of your captain-related duties, including knowing who can play, organizing refreshments, getting your roster ready, setting the lineup and more.
Who Can Play?
Availability is key when planning tennis practices, matches, and events. When we plan our kids' activities, it's pretty much assumed they can attend every event. But, adults are busy. Combine jobs, social events, and parental responsibilities with the prevalence of injuries in older athletes, and you're pretty much guaranteed a few players will miss a few matches here and there. As a team captain, it is a constant struggle to get the right number of players to each match.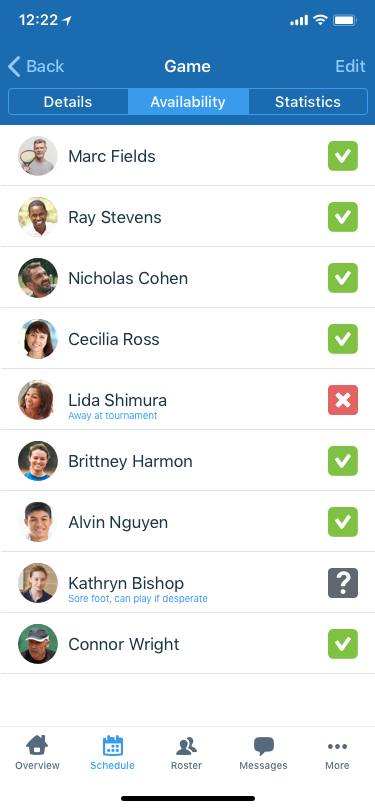 Enter the Availability tab, where players mark their availability for each match. If they can't make it, they can even add notes as to why not (Ex: I'm playing in a tournament; I might be available; My foot is sore, I can play if you're desperate). Instantly, the captain knows who can play, which makes setting the lineup easier.
Say for example you need eight players for Saturday's league match: 
Within the Availability tab, scan for who marked themselves as available. 

Pair players based on gender (for mixed doubles), USTA ratings, singles vs. doubles preference, and side of court preference (ad/deuce).  

If you have other players left over, keep them marked as available. When a player has to miss a match, getting a quick sub is crucial. With the availability tab, you can easily see which subs you have ready to play. This feature is incredibly useful when a player notifies you at the last minute they can't play after all.
Pro Tip: For mixed doubles, set your team to co-ed so you can see a field for men/women on the availability tab.
Learn how to set your team to co-ed. Learn how to use the Availability tab.
Getting the Most Out of Your Roster
Did you know you can add custom fields in TeamSnap for anything and everything related to tennis? Team administrators can create custom fields to capture roster information that isn't already part of the TeamSnap system. Custom fields help captains track important information about each player, greatly reducing the time it takes to set up a lineup or determine who can play when.
Here are our tried and true favorite adult tennis fields:
USTA Rating: Add a field to track player ratings, and easily scan the roster to find players with the right ratings. For example: You have an 8.5 team and need to ensure you match a 4.0 player with a 4.5 player. Having your players' USTA ratings stored in TeamSnap makes it super easy to pair a 4.0 player with a 4.5.

Righty/Lefty: Instead of texting or emailing players asking if they are a righty or lefty, track it with a custom field. Having this information readily available on the roster makes creating teams of doubles easy.

Ad/Deuce Preference: Every player has a favorite side of the court. Track preferences with a custom field to easily assign teams on the fly.

Singles vs. Doubles: Not every player on your team likes playing singles, and not everyone enjoys playing doubles. This custom field makes scanning the roster for available players a breeze. 

Played With: Players who play together repeatedly will generally play better together than with new partners. Keep track of who a player has played with to help set winning lineups.
Learn how to create custom fields for tennis.
Lineup
Instantly set lineups for the next league match confidently knowing player preference. Lineups is a mobile-only feature that easily saves captains time. With Lineups:
Captains easily assign players to the lineup for each match. 

Sync with Availability to set your lineups from the players who RSVP'd they can play.

Once the captain publishes the lineup, players can offer feedback if something doesn't look quite right. 
Let's say you are playing in a league that needs to field three doubles lines and two singles lines each match. As captain, you'll want to create the lineup ahead of time and communicate that to the team. Here's how easy it is to do this in TeamSnap:
Check who can play in the TeamSnap Availability tab.

Assign the available players to the appropriate lines: e.g., singles 1, singles 2, doubles 1, doubles 2, or doubles 3. 

Nothing is set in stone–you can play around with who is playing at each position, share the lineup with your team, and adjust later if anything comes up. It's a great way to remember who is playing at each position.
Learn how to create a lineup.
Communication
Communication is important, whether you're a captain or player. You might find yourself constantly emailing or texting groups of people to notify them of last-minute court changes or to find a substitute player. Group messaging, a feature within TeamSnap that allows you to create custom groups of players to chat with, is a great way to immediately contact just those players who are playing that day.
Communication is especially important on match day. Sometimes we're playing at large facilities where the courts are spread out all over the property, and other times we're playing at a public park where the courts are one small location in a much bigger area. Either scenario, locations are notoriously difficult to navigate. The first person who finds the courts can use TeamSnap messaging to inform everyone else exactly where to go (e.g., go to the north east side of the park near the giant flag pole). 
Use Messaging to:
Alert the team where the court is with directions.

Send a direct message to ask a person if they are available to sub.

Communicate who's bringing what.

Coordinate carpools. 
Refreshments
Adult tennis is a very social sport, both on and off the court. As much as we love playing, we look forward to post-match snacks and drinks with our teammates and our families. There's nothing better than celebrating a win (or mourning a loss) over a cold drink with friends. 
But we all know what happens when someone drops the ball on refreshments: very unhappy people.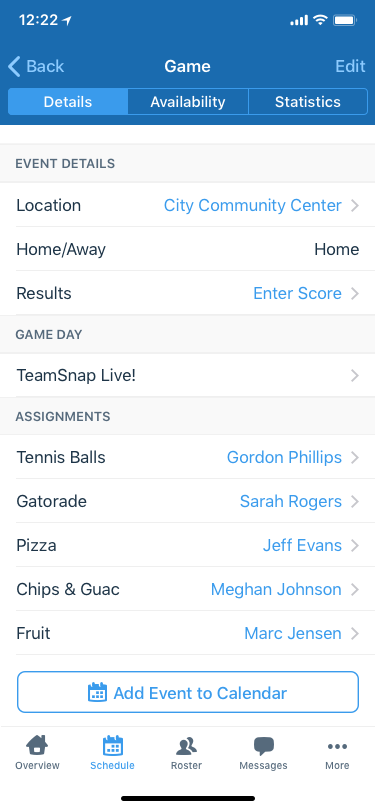 Use TeamSnap's Assignments feature to plan who's bringing what ahead of the match. Captains can assign people to bring specific items, or players can assign themselves to drinks and snacks without having to bug the team captain. Just imagine a match or practice that ends in delicious, ice-cold Gatorade and pizza vs. last week's match where everyone brought chips but nothing else.
For step-by-step instructions on how to set up assignments, visit our Help Center.
Stay In The Game
With busy lives and other commitments, traveling to a championship like districts or nationals is tough. If you can't make the match, you can still track the team's progress with TeamSnap Live!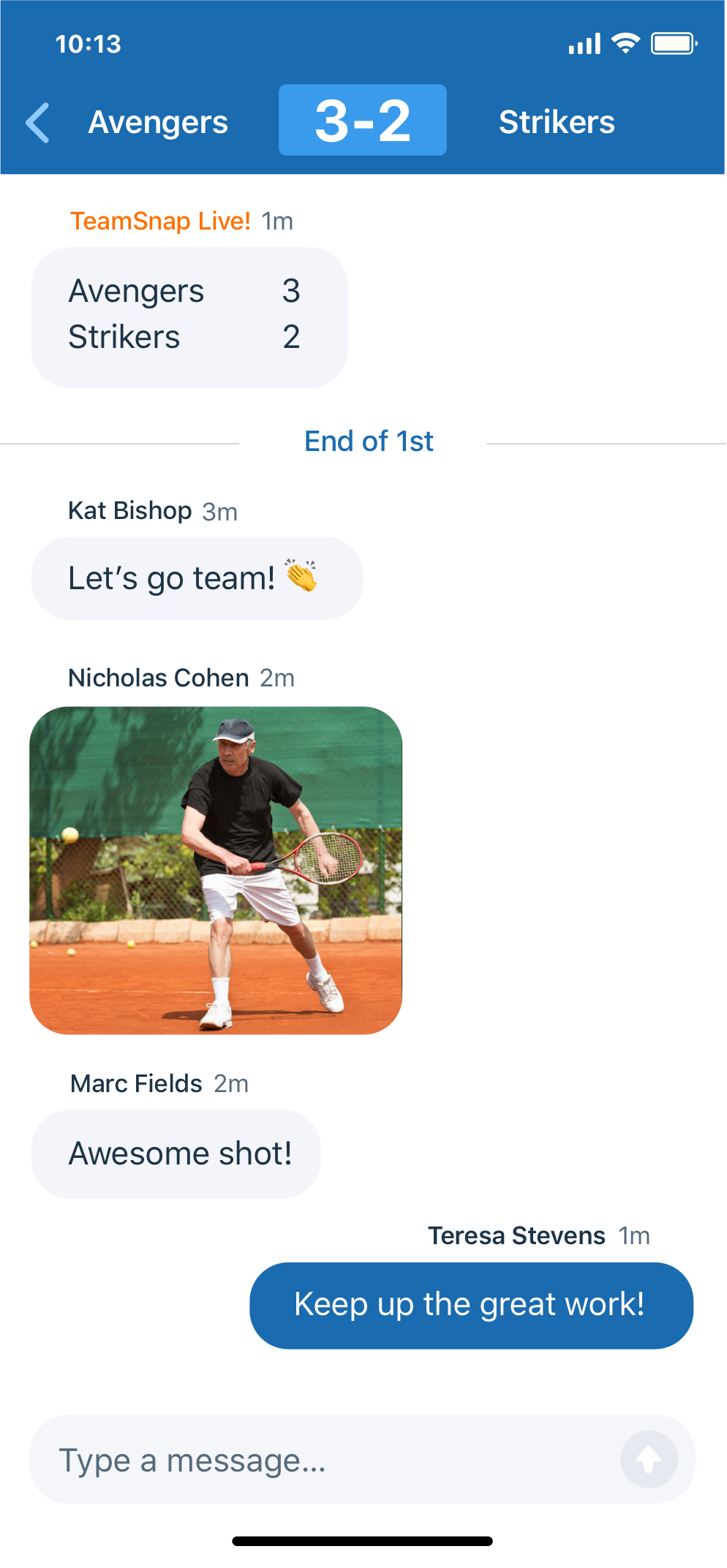 TeamSnap Live! is a fun way to keep teammates updated and help them feel like part of the match even when they can't be there. Players can post real-time updates, scores, play-by-plays, photos and video highlights for teammates to follow along with. 
Learn how to use TeamSnap Live!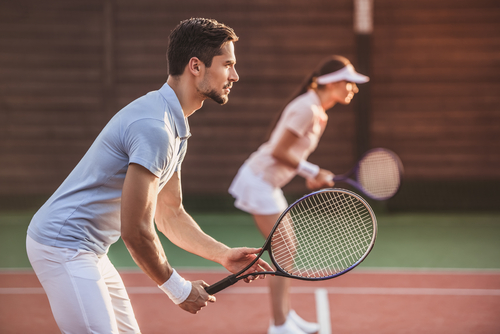 There you have it, tennis captains! With these hacks, you'll lead your recreational tennis team like a hero. You can always do more with TeamSnap, so follow us on Facebook for more tips and tricks to make your life as a captain, coach or player even easier. Have a tennis team? Log in or sign up to add your team now.
Note: Features vary by plan. Check out TeamSnap plans and available features.
–
Lisa Hope is a product marketing manager with TeamSnap and a marketing professor at the University of Florida.