Organizing a club or league is a tough job, but somebody's gotta do it. If that somebody is you, we're guessing you wouldn't mind a little help.
That's why we made TeamSnap for Clubs & Leagues. It's a one-stop shop that saves you time on registration, communication, administration and more.
Wondering if this is the product for you? Then check out our top five reasons to try TeamSnap for Clubs & Leagues.
You Need Help with Online Registration
Wrangling checks, making trips to the bank, figuring out who's paid and who hasn't–all that stuff is about as fun as a rainout. There's a better way to handle registration, and you're lookin' at it!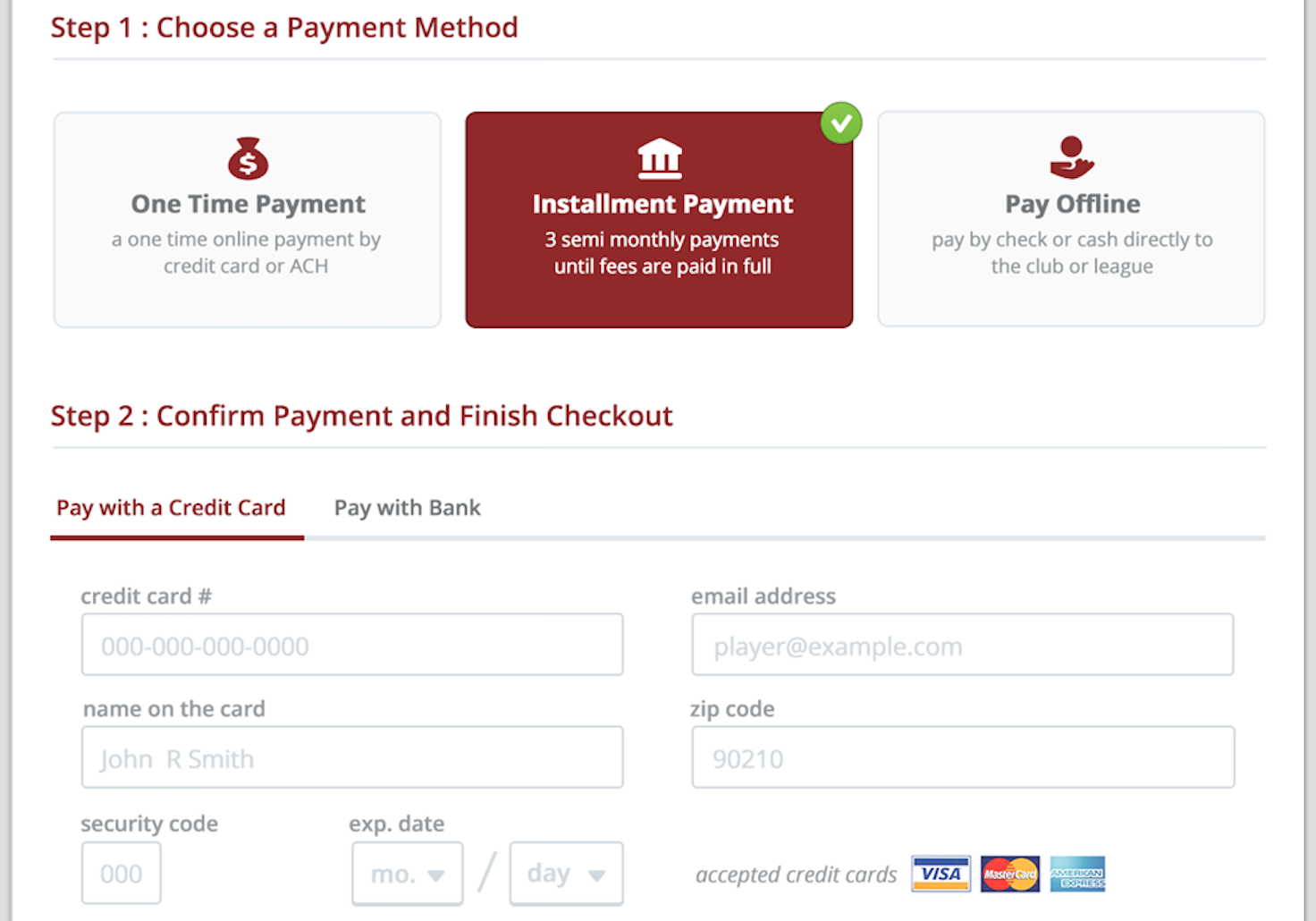 We handle everything online, which means you don't have to collect a single piece of paper. Parents and players can pay team fees online, either in one chunk or over a period of time. Plus, you can add waivers and other important documents that need to be signed. You'll be happy, your club or league members will be happy and everyone's risk of paper cuts will be greatly reduced.
You Need to Stay in Touch With Everyone
If you've ever had an issue due to miscommunication, you know what we're talking about. Good communication is essential for any organization.
We make it easy to stay in touch. You can send instant updates to everyone or just specific groups. Plus, you get a copy of every message sent and received–perfect for future reference.
Your Club or League Needs a New Website
When prospective players visit your site, you probably don't want them thinking they've traveled back in time to the days of dial up (gasp!). In other words, it's time to join the 21st century.
Our Website Builder helps you make a beautiful site with ease. No need for a degree in computery-stuff. All you do is choose the elements you want for your site (standings, forms, text), drag them where you want them and drop them. Our sites are easy to make, look great and run on any device.
You Have a Lot of Teams
Sure, you might be able to survive on a spreadsheet for a while. But when the season really gets going, you're going to need an organizational tool with a little more punch. TeamSnap to the rescue!
With our powerful Roster feature, you can store info for every player, coach and manager in your organization. Easily track phone numbers, email addresses, personal information and more from your desktop or phone.
You Need Help with Scheduling
If you suffer from schedulephobia, don't worry. There's a cure, and it's called TeamSnap.
Using our Schedule add on (courtesy of Diamond Scheduler), you can build a fully-functional schedule in seconds. Just type in any special conditions you have for your schedule (Team A must play Team B, for example), enter locations then let the software do the rest.
Does TeamSnap for Clubs & Leagues sound like the product for you? Chat with one of our club and league experts or sign up for a free 21-day trial today!
Kyle Massa is TeamSnap's content manager. Outside of work, you can find him writing, reading and playing guitar for his cats.