For Part II on the power of sponsorship, click here.
Sports Spark Emotion
Have you ever experienced the raw spectrum of emotion while watching your favorite sports team achieve something miraculous? Feeling your heart sink after a crushing defeat? The butterflies flutter in your stomach as you anxiously wait for the final seconds to tick off the clock. You find yourself completely engrossed in the moment – nothing can distract you from your team and all of your attention is focused on watching the game unfold.
There's nothing quite like cheering proudly with fellow sports fans
Sports provide a medium that allows you to get lost in the passion of the game. It's a sensation and experience that is unlike anything else in this entire world – sports bring people together in a way that no other entity can. As the passion for sports continues to rise, so does the ever-growing sports sponsorship industry. Sponsorship has become recognized as an effective marketing mechanism that can promote positive brand affinity, build brand awareness, drive overall traffic, promote new products and service lines, and reach target consumers on a more unique and meaningful level.
In a time where traditional forms of advertising are no longer generating the same return as they once did, brands from a variety of business verticals are beginning to shift their marketing and advertising budgets to sports sponsorships.
Now the LeagueSide team realizes that some people might be skeptical – is it true that a sponsorship will solve every single one of your marketing problems? Not exactly. Is it an effective marketing channel to interact with target customers and develop strategy that aligns with other elements of your marketing mix? Without a doubt. The question is – how can sponsorship be beneficial to my brand?
With those thoughts and questions in mind, let's dive into the first three benefits of sports sponsorship and expand upon how sponsorship can be integrated into your marketing plan.
Benefits of Sports Sponsorships
1. Provides Access
One of the biggest advantages of building a partnership with a team, individual, or sports property is the opportunity to not only build positive brand association, but also to activate and enhance the fan experience. By investing in a sponsorship, you're directly impacting the fan base in a positive way by providing access to positive times and experiences!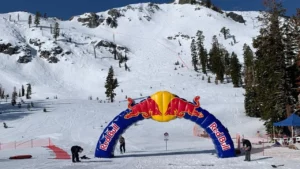 An integrated example of Red Bull reaching target consumers on the slopes
Fans are more likely to associate with a brand from an integrated sponsorship because a sponsorship can add value to fans via increased entertainment, access to a brand's product, or engagement opportunities. For example, if your brand is prominently displayed on a team's jersey or given the opportunity to activate on-site (see the incredible Red Bull display , you're able to directly interact with loyal fans and begin the process of turning those fans into your dedicated customers and ambassadors. Access is key when evaluating sponsorship opportunities.
2. Guarantees Engagement
I think you could all tell from our introduction that sports fans are passionate (maybe even a bit crazy) about their allegiances to teams and organizations. By deciding to build a sponsorship with a team, athlete, or venue, a sponsor is agreeing to the opportunity to engage with some of the most diehard, emotional, and engaged target audiences available in sports fans. If an alignment exists between your brand and a particular sports team or property, there is no better way to reach your target customers than by interacting with them and making their sports experience the best it can be. You can reach them in a forum associated with positive times, powerful memories, and an energetic community.
3. Generates Exposure
One of the greatest parts about a sponsorship is that it provides a brand numerous different channels to activate within. From physical and in-person assets such as signage, logos on jerseys, and in-venue advertising to on-site activation and sampling to integrated digital and social media campaigns, a sponsorship can garner a brand tons of exposure.
Geico receiving digital signage and recognition during an on-court halftime promotion
Additionally, by utilizing so many different multimedia channels, you have the opportunity to reach fans and customers at multiple touchpoints, unlike many traditional marketing techniques. This will help your brand cater to the constantly changing needs and preferences of your consumers and will help your brand stand out amongst your competition.
Until Next Time
We hope that you enjoyed our introduction into the benefits of sports sponsorship and the growth of the sports industry. If you'd like to see the second installment on the power of sponsorship, click here.