---
HITS Helps Researchers Understand Concussions
---
By Dan Peterson, TeamSnap's Sports Science Expert
Attacking the concussion problem in football requires a multi-prong strategy to not only assess a player after an obvious hard hit to the head, but also study the location and the accumulation of hits over time. Before coaches and players can adjust their tactics and training to lessen head injuries, they need better data to make decisions. With the help of a new helmet system, University of Florida researchers have a new tool to study concussions at a much higher level of detail.
According to a 2013 Institute of Medicine and National Research Council report, college athletes across all sports suffered a concussion about every 4.3 out of 10,000 times they were on the field for either a game or practice session. For some of those athletes, there are obvious signs of distress including dizziness, confusion and blank stares. However, some hits still allow a player to carry on with no immediate signs of cognitive problems.
Dr. James Clugston, team physician for the University of Florida Gators, wanted to look at head injuries from three different angles: immediate analysis of force applied to a player's head, accumulated force over time to one player, along with blood and MRI studies of a player's brain.
For the first two requirements, Clugston acquired the Head Impact Telemetry System (HITS), a set of six sensors placed on the inside of a football helmet. He already has four years of blood protein data and two years of MRI exams. Now, his ongoing analysis of 30 Gator football players can include detailed stats on the number, severity and angle of hits to their helmets.
"We are still trying to find objective ways to detect concussions and help us know when someone is recovered so they can return to play," Clugston said. "We wanted to get a measure of the amount of force that athletes were experiencing. With this system, we will get real-time data to assess the severity of the impact."
Tracking a player's history of big hits helps trainers and physicians understand that player's vulnerability from future collisions.
"You may see that a player has had many hits in a week, season or career," Clugston said. "Some studies show that the risk of concussion goes up based on how many hits a player received in the preceding days as well as how many concussions they may have had in the past."
Having a history of head hits can also allow researchers to advise coaches and players on dangerous angles of the head and neck during contact. Lowering the head before impact can increase injury rates.
"It helps us track over time which athletes have sustained the most impact and whether that matches the blood biomarkers we are testing and the imaging results," Clugston said. "HITS helps us make sense of that other data. Hopefully, these efforts can make us better at diagnosing and managing concussions and ultimately increase player safety."
Watch this video to hear Dr. Clugston describe the system.
Reducing concussions requires an organized effort to understand all aspects of a violent hit to the head. Systems like HITS can only help understand all of the variables.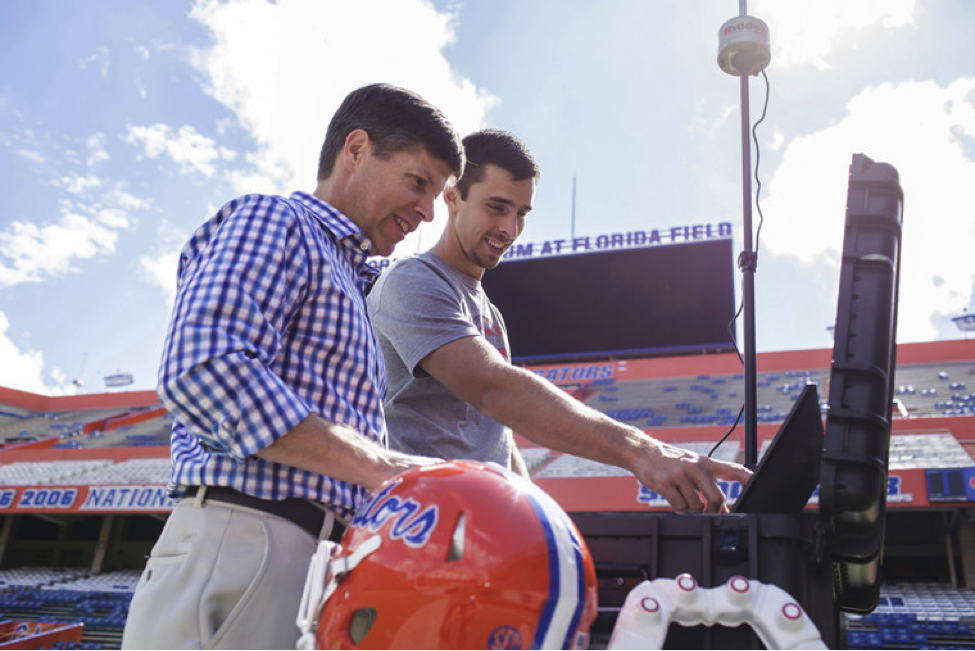 Dr. James Clugston (left) and Matt Graham, coordinator for the head impact telemetry system at UF, set up the system inside Ben Hill Griffin Stadium. The HITS system allows team physicians to monitor hits players receive on the field using sensors placed inside their helmets.
Credit: Mindy Miller, UFHealth
---
NEW!

Free Sports Organization Resources

All of TeamSnap's ebooks, articles, and stories in one place. Access Now
---