Sponsoring a local sports team can be a highly effective marketing strategy for businesses looking to increase brand visibility and community engagement. Not only does it allow you to support your local community, but it also provides an opportunity to align your brand with the positive values associated with sports. In this article, we will answer that question, what does it cost for a brand to sponsor a local sports team? We will explore the costs of sponsoring local sports teams, how it varies asset to asset, and also dive into why brands choose to invest in sports sponsorships.
Sponsorship costs for local youth sports teams, leagues, and clubs vary widely based on several factors, including the team's popularity, the level of competition, and the overall exposure the sponsor receives. There are over 60 million kids participating in youth sports (that's 65% of U.S. families), making youth sports a $19 billion dollar industry (Wintergreen 2020), rivaling the size of the $14b NFL. 
Within this vast market, there's a wide range in sponsorship costs and deliverables. Youth sports sponsorships can range from a few hundred dollars for a local team to several thousand dollars for a competitive amateur club team in a higher division or league. 
A major factor that can influence the costs to sponsor local sports teams are what assets are included in the sponsorship. 
A banner at a field can often cost a sponsor between $250 and $1,000 for the length of the season, depending on the amount of weekly visitors to the field and duration of the season. 
Jersey sponsorships can range from $250 to $2,000, depending on the size of the team or league, and the duration of the season. The size of the logo and whether the sponsor has exclusivity can also factor into the cost. 
It's not just physical assets that sponsors can consider: Another option is to sponsor website banners on a youth team's website, which can cost roughly $150 to $250 to sponsor over the course of a season.
To learn more about all of the potential elements of youth sports sponsorships and how TeamSnap for Brands can help bring youth sports sponsorships to life check out TeamSnap's Youth Sports Sponsorship Encyclopedia: A Guide For Marketers.
Brands are seeing a return on investment with youth sports sponsorships. 
Uber Eats
Uber Eats is one of the nation's leading food delivery services. As a part of its growth plan, Uber Eats wanted to expand to a new customer segment — families! Enter onto the field, TeamSnap for Brands. Uber Eats' decided the best way to reach families in the community was through a youth sports sponsorship campaign. Uber Eats provided key zip codes and TeamSnap executed a campaign targeting busy families that order out 2+ times a week. Read more about how Uber Eats brought their on-the-go-food to the fields and grew +104% in brand favorability.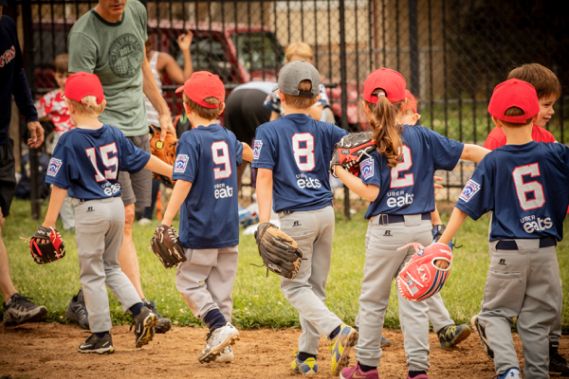 Axe
AXE was looking for a way to get their new colored hair gel into the hands of Gen Z guys and moms. The brand wanted to make an authentic connection with youth sports players by sampling their product nationwide and encouraging young men to "Ditch the Label" as part of their latest campaign.
Using TeamSnap for Brand's platform, AXE targeted major youth lacrosse and soccer tournaments nationwide. At each tournament, AXE implemented branded field banners and tabling setups to distribute products and collect testimonials. This resulted in 75,000 samples distributed amongst GenZ guys and moms, a 90% increased purchase intent, and a 130% increase in brand recall for AXE products.
Brands are investing in youth sports sponsorships to make an impact in the community and on their business. A win-win!
Community Engagement: Supporting local sports teams demonstrates a brand's commitment to the community. By investing in local sports, brands build a positive reputation, enhance brand loyalty, and foster a strong sense of goodwill among local residents.
Targeted Family Audience: Youth sports sponsorships allow brands to target busy families at home, on the field, and on the go. 81% of parents plan their weekends around their kids' youth sports activities.
Brand Association: Aligning your brand with local youth sports teams can enhance a brand's image by association. This connection with positive sporting values such as teamwork, dedication, and fair play can create a favorable impression among consumers.
Sponsoring a local youth sports team can be an effective way for businesses to increase brand visibility, engage with the community, and enhance their reputation. By investing in sponsorships, brands can achieve their marketing objectives while supporting local youth sports and building trust within their communities.
Download The Ultimate Brand Guide to Sponsoring Youth Sports Teams to learn more about how to get started sponsoring local sports.