---
New Running Shoes Will Give Real-Time Biomechanical Feedback
---
By Dan Peterson, TeamSnap's Sports Science Expert
Running technology is about to take another leap forward. Since we can already track our route, speed and heart rate while listening to our tunes, the only thing missing is a constant coach to tell us if our biomechanical running form is out of step. Correcting our gait in real-time may help avoid those nagging leg injuries like runner's knee, tendonitis or hamstring issues. Now, a German research consortium is partnering with Spanish footwear company Kelme to develop the ultimate biofeedback running shoe.
For years, physical therapists, orthopedic specialists and coaches have used video of runners on a treadmill to look for flaws in their runners' stride like over striding, pronation, and foot strike. Once identified, they teach their student to move differently to avoid injuries. However, once away from the clinic, the old habits can creep back in during daily training runs.
To prevent this, researchers at Fraunhofer Institute for Photonic Microsystems IPMS have joined together with five partners to embed sensors and microelectronics into the soles of running shoes to send a constant stream of biomechanical data to a smartphone app. Known as Project RUNSAFER, the initiative has been funded by the EU.
"Pulse rate watches and chest straps record only vital signs like breathing and heart rate. In contrast, our running shoe medically evaluates and monitors training while jogging. It informs the runner for example of incorrect foot position, asymmetric loading, or warns of exhaustion or overload. There has never been a comparable device before," said Dr. Andreas Heinig, a scientist at IPMS.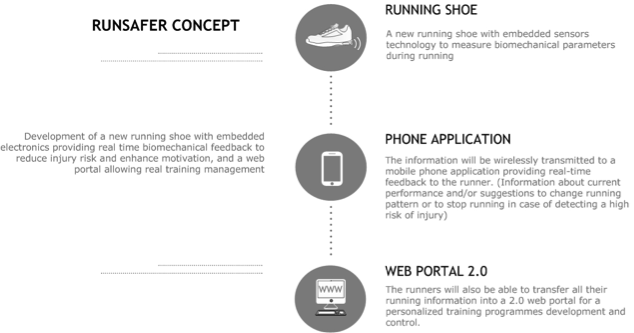 The system, which can be charged while in the shoe, includes an RF module, accelerometers and GPS sensors. Combined with the app, a runner can get instant feedback and tips while they are out training. Then, like most of today's running apps, the data can be synced from the phone to a central website portal for more analysis and manipulation.
"The app could recommend running more slowly, for example, or rolling off the foot differently, suggest seeking a different running surface or stopping if necessary," said Heinig.
As of the end of 2013, the first prototype of the Kelme shoe with the electronics was being tested, as well as the app. The next phase of development will try to make the system smaller and lighter as ounces matter to runners. The team hopes to be selling the shoe by early 2015.
---
NEW!

Free Sports Organization Resources

All of TeamSnap's ebooks, articles, and stories in one place. Access Now
---